Discover more from The Shortcut
The Shortcut is the #1 consumer tech publication on Substack, designed to be your one-stop editorial guide to simplify your life. More than just PS5 restock information, we also cover news, reviews and provide best-in-class buying guides.
Over 135,000 subscribers
iPhone 15 Pro Max review: testing Apple's best new iPhone for one month
Gamers will love either 'Pro.' Camera nerds will want the 'Pro Max.'
Update: I've now spent more than a month testing the new iPhone 15 Pro Max and my in-depth review is below explaining why it's better than the smartphones offered by Samsung and Google, which I have also tested for comparison.
Why trust me iPhone 15 Pro Max review?
I've been reviewing iPhones for over 10 years and iPhone 15 Pro Max is the best year-over-year iPhone upgrade that Apple has ever released. It's now my go-to camera that can capture distant subjects at sharp 5x optical zoom and my always-on-me gaming handheld with hardware-accelerated ray tracing graphics for console-quality games. This is also my favorite iPhone design to date with a lighter-than-expected titanium frame, USB-C and more recycled parts than ever.
For these reasons – the camera, the gaming horsepower and the design – Apple's iPhone business remains sustainable in all of the right ways. Sure, Samsung's Galaxy S23 Ultra zooms in further, Google's Pixel 8 AI-based photo editing tricks are smarter and the Galaxy Z Fold 5 and OnePlus Open, in my opinion, is the future of smartphone innovation. But Apple strikes the right balance for today's needs, proving it isn't done perfecting candybar-style phones and a software ecosystem that Android struggles to match.
I've spent more than one month testing the iPhone 15 Pro Max non-stop alongside the 15 Pro, 15 Plus and 15. Here's what I've found after upgrading to the 'Max.'
iPhone 15 Pro Max review
Pros
✅ 📸 Apple's best camera with a 5x optical zoom on the 15 Pro Max

✅ 🎮 Powerful gaming specs can run console-quality games

✅ 🔘 Action Button acts as a new customizable shortcut button

✅ ⚖️ Durable yet lightweight titanium frame and smaller bezels

✅ 🔌 USB-C finally comes to iPhone – RIP Lightning port 🫡
Cons
❌ 🔘 Action Button can only be assigned to one shortcut by default

❌ ⚡ Wired charging speeds haven't increased despite USB-C

❌ 🎨 Muted colors (an issue with most Pro phones today)

❌ 🤳 Samsung selfie camera is still easier to use (see below)
🏆 Review score: 5 out of 5
🏅 Editor's Choice Award
Design
🪨 Titanium frame rocks. Aerospace-grade titanium serves as a lightweight, yet still-durable frame replacement for standard aluminum and stainless steel. The edges are now rounded off (iPhone 14's edges were sharp). It's Apple's most comfortable big phone yet.
🤕 Back glass is cheaper to replace. I know several people who shattered the back glass of their 14 Pro and pretend its has a "cool" spiderweb look – while crying inside. Good news, upgraders: while a 14 Pro Max back glass repair job cost $549, the new 15 Pro Max costs $199 for the same part and labor. Apple made it easier to replace the back glass without having to disassemble the entire phone, a design shift seen in last year's 14 and 14 Plus. Now it's a perk for the Pros.
💔 Durability horror beg for a case. I haven't had any durability issues with my iPhone after one month of testing. It looks brand new. But horror stories suggest that going without an iPhone 15 Pro Max case means phone drops result in shattered back glass, as YouTube's JerryRigEverything demonstrated on the larger Max size. Gone are the days when a case-less iPhones could miraculously survive impossible falls. That said, I stand my conclusion that the strong titanium frame and Apple's Ceramic Shield front make this feels like the strongest iPhone yet.
⚖️ iPhone 15 Pro Max on a diet. The math will surprise you: it weights 221g while last year's 14 Pro Max is 240g (-19g YoY). Last year's smaller 14 Pro is 206g (-15g vs the 15 Pro Max). The result? The "big" 15 Pro Max is closer to the regular iPhone 14 Pro weight than the 14 Pro Max. It's more than just a numbers game. I really feel the difference. You will too.
🔘 Action button replaces mute switch. I can now tweet with a single button press. Really! I was able to customize the new Action button that replaces the mute switch (something around since iPhone 1), and while I miss that switch, I love being able to launch Twitter (X) in an instant. At first, I used the button as camera launcher (I could then press the button to snap a photo). This makes me wish I could have multiple actions tied to a double or triple press. It's on my Apple iOS 18 wish list.
📺 Less bezel on 6.7" & 6.1" Pro screens. That thin black display outline is getting even smaller with the iPhone 15 Pro and 15 Pro Max. The screen sizes are the same – 6.7 inches for 15 Pro Max and 6.1 inches for the 15 Pro – but thinner bezel is a great addition to the existing Super Retina display and 120Hz ProMotion technology.
🎨 Titanium colors. I'm a big fan of Natural Titanium, the flagship iPhone 15 Pro Max color in Apple's marketing. I do wish these Pro phones came in more vibrant colors – give me a Product Red (this is same complaint I had for in my Samsung Galaxy S23 Ultra review). We're not all so serious.
Here are the iPhone 15 and iPhone 15 Pro Max colors:
Natural Titanium

Blue Titanium

White Titanium

Black Titanium
---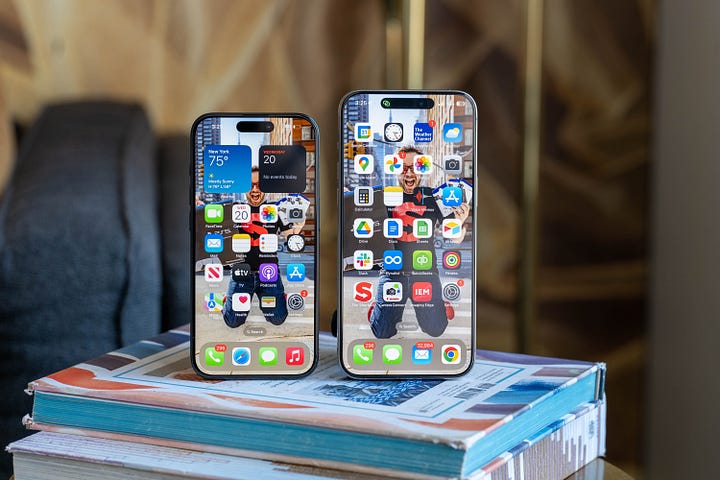 Price and trade-in deals
💰 Price increase (but not really). It's $1,199, or $100 more – but only for people who would've bought the non-existent 128GB iPhone 15 Pro Max. I suspect most Max customers want at least 256GB and that's where Apple starts things out, at the same price as the 256GB iPhone 14 Pro Max. A price increase? Debatable. It's much better than all of the early iPhone rumors that suggested a price increase across the board.
🗄️ Pricey storage upgrades. Add $200 if you want 512GB of storage and $400 for 1TB. My bigger complaint: I hate that investing in larger storage sizes now won't factor in to Apple's trade-in offers later (both iPhone and Android phones are guilty of it). Currently, an iPhone 14 Pro Max 128GB gets you the same $650 as a 256GB, 512GB and 1TB version. I know it'll complicate Apple's trade-in logistics, but shelling out an extra $200 or $400 should have a boosted trade-in offer. My advice: don't get more GBs than you need and opt for Apple's iPhone upgrade program at $50/mo as it includes AppleCare+. Your iPhone, no matter the size, is worth $0 broken.
💸 Solid trade-in deals from Apple. You can get $650 off an iPhone 15 from Apple by trading in an iPhone 14 Pro Max, and $570 by trading in the 14 Pro. I like this option because the longer you hold onto your phone, the more money it loses: you get $70 less for an iPhone 13 Pro Max, $200 less for a 12 Pro Max, $350 less for an 11 Pro Max and $480 less for an iPhone XS Max (at just $170 for the trade-in).
🤑 Good trade-in deals from most US carriers. Verizon offers $830, while AT&T and T-Mobile offer $1,000 for an iPhone 14 Pro Max or 13 Pro Max. But in AT&T's case, these are bill credits paid out over 36 months. Verizon and T-Mobile pay $640 as an instant credit and the remainder as bill credits. Watch out for fine print.
---
iPhone 15 Pro Max gaming
⚙️ iPhone 15 Pro is the REAL gaming champ. Its redesigned A17 Pro chipset has a 20% faster GPU and 4x faster hardware-accelerated ray-tracing vs the A16 Bionic. That means it's in the same league as Steam Deck, ASUS ROG Ally, and Lenovo Legion Go. Apple's ARM-based chip could nail the balance so many PC gaming handhelds are struggling with now: performance vs battery life vs overheating.
🕹️ Console-quality games. The App Store will soon add Resident Evil: Village, Resident Evil 4 remake and Death Stranding. Next year, we'll get the first true console-quality Assassin's Creed game, Assassin's Creed Mirage. It's the best Apple gaming news since Steve Jobs revealed Halo for the Mac at Macworld in 2001 – and, sadly for Apple fans, it went Xbox after Microsoft bought Bungie. Is the drought finally over?
👾 Apple Arcade remains a good value. On the flip side, 200+ games from big and small developers – see our best Apple Arcade games list – can be accessed via a $5/mo subscription. It's ideal for families; there are no ads or microtransaction pitfalls.
🆚 Better than PlayStation Portal. The specs don't lie: the iPhone 15 Pro is more capable than Sony's PlayStation Portal thanks to Apple's hardware-accelerated ray-tracing graphics and 5G. The PS Portal is a "second screen" that requires a running PS5 or PS5 Slim and WiFi. Plus, the iPhone pairs with AirPods and other Bluetooth earbuds, whereas PS Portal doesn't natively work with anything but the PlayStation Earbuds for PS5 (not even the Sony Inzone Buds work). Apple offers the better always-on-you remote gaming platform.
🎮 New-ish Backbone One controller. Transforming the iPhone 15 Pro Max into a handheld gaming device can be done with the Backbone One controller – but you'll need this newer USB-C version (originally launched for Android phones) instead of the original Lightning edition. It costs $99 on Amazon right now.
📺 iPhone gaming on a big TV. I test playing Call of Duty Mobile my 4KTV – with a PS5 DualSense controller – like this was a console game. I inserted a USB-C cable into this A/V HDMI USB-C adapter from Best Buy and I was gaming on a big screen. My iPhone got toasty running high-end games this way, but it never stuttered.
---
Cameras
🔭 5x camera zoomies. I tested Apple's 5x zoom at Yankee Stadium by buying the absolute furthest seats from home plate. The result? iPhone 15 Pro Max's 5x optical was able to capture the action with stunning clarity. Even the 25x digital zoom looked good on a small iPhone screen. Samsung still does better 10x optical zoom and 30x digital zoom (camra comparison coming to paid subscribers), but pound-to-pound Apple's 5x photos rival Samsung's 5x photos.
Only paid subscribers will get the in-depth Samsung vs iPhone vs Google camera comparison with 100+ photos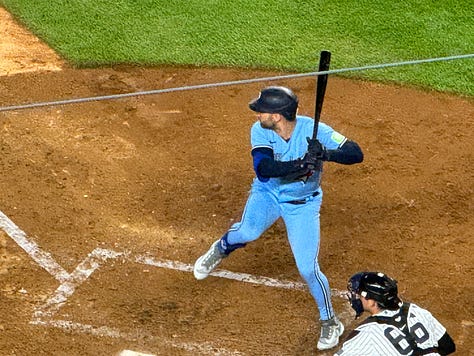 📸 Better 24MP main camera. Everyday photos on iPhone 15 Pro Max look better too, not just zoomed-in shots. First, they're 24MP by default (vs the usual 12MP) with RAW photos remaining 48MP (for pro photogs). Second, Apple's new Smart HDR 5 balances skin tones better. In my comparison shots, Samsung still overly-brightens subjects while Google swings the other way by adding too much texture. The iPhone 15 Pro Max is the Goldilocks of computational photography.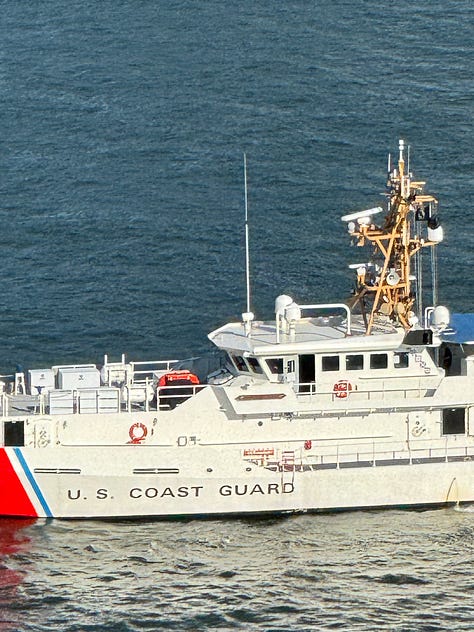 The iPhone 15 Pro Max is the Goldilocks of computational photography.
🖼️ Almost all photos can be portraits. Ever take a picture and wish it was a portrait photo? Apple added new focus and depth controls so that you can turn on blur effects (bokeh) after taking a photo of a person. You can also adjust the effect – from f/1.4 (intense) to f/11 (no blur), and switch the focus from background to foreground subjects. I like changing the intensity because while Apple's software-based blur has gotten a lot better, it's not always perfect around the edges at f/1.4.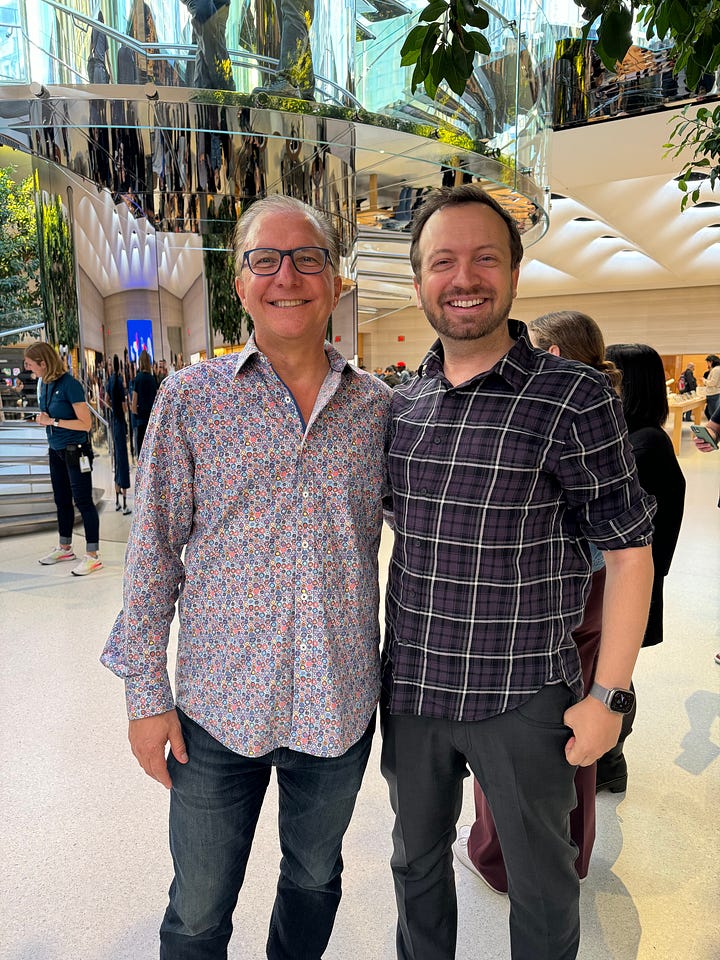 🤳 Samsung's selfies are easier to take. Apple, please fix this in iOS 18: your selfie timer is buried two menus, one swipe and three taps deep. On Samsung phones, I can trigger a selfie timer with a simple open-palm gesture – it's magical, which is usually Apple's department. But the iPhone requires me to tap an insufferably small triangle at the top to switch from the photo modes to settings listed at the bottom, swipe along those settings to see the timer button (which looks a lot like the white balance button next to it), tap the timer button, then tap 3 second or 10 seconds and finally tap the shutter button. By the time I do all of this, the "Kodak moment" is over.
🔄 Samsung's camera switch button is better. I find it easier to switch between the front and back cameras on Galaxy phones. Just swipe anywhere on the screen. Done. As Apple's phones have gotten bigger over the years, reaching for the corner camera switch button has gotten harder. I also can't switch cameras mid-video-recording on the iPhone – I can do that on a Galaxy where I can narrate what I'm seeing then vlog back and forth in one continuous clip. Samsung wins on ease-of-use.
📹 Pro-level video perks. Apple's has photography rivals, but no one touches the iPhone's video quality. It extends its lead with new features – mostly for the video professionals, not average consumers: ProRes video recording up to 4K at 60fps (up from 30fps) when recording to an external source, Log video recording to color grade later and Academy Color Encoding System color image encoding. Average users won't need these tools, but filmmakers with an iPhone to their toolkit will love them.
🏃‍♂️ Can't record do 4K120fps. As pointed out in our DJI Osmo Pocket 3 review, the camera gimbal has even better stabilization and records up to 4K/120fps video, as can the GoPro Hero 12 Black action camera. The iPhone 15 Pro Max keeps to 1080p for 120fps or 240fps. It's about time Apple bumps up slow-motion "slo-mo" video in the next generation of iPhones.
🥽 Spatial video for Apple Vision Pro. This is something I haven't been able to test yet, but it's worth pointing out if you're a true early adopter who saw the Apple Vision Pro price of $3,499 and didn't wince. Only the iPhone 15 Pro and Pro Max will be able to record 3D spatial video for Apple forthcoming headset.
---
USB-C
🔌 USB-C port is a win for techies. My MacBook, iPad, mirrorless camera, GoPro Hero 12 and Android phones all take USB-C. It's one cable type to rule them all and one fewer wire to pack when traveling.
🙄 USB-C complaints will be short-lived. I made this point on a few podcasts and radio interviews: no one is complaining about the switch to Lightning from the 30-pin dock in 2023, but they did in 2012 for a few months. It's a transition that will be better in the long run; naysayers will quickly get over it and find the same benefits as techies.
🏃‍♂️ USB 3 speeds: 20x faster – with a proper cable. In the age of AirDrop, not many people transfer their photos and videos via a wired cable anymore, but the iPhone 15 Pro series has much faster transfer speeds for serious workflows – 10Gbps (which is 1.25GB per second). Two things to note: the iPhone 15 and 15 Plus are limited to USB 2 speeds so is the USB-C cable included with the iPhone 15 Pro models. You'll need a proper USB-C 3 cable (sold separately) for the faster speeds.
Battery life
🔋 Better battery life by a smidge. Running my battery life tests, I found my iPhone 15 Pro Max lasted two hours longer than my iPhone 14 Pro Max. I can get beyond "all day" battery life and fully into day two when I'm not recording tons of video. If you're a true power user, read up on our best USB-C portable charger for iPhone 15 guide.
🧪 Our tests vs Apples. The Shortcut battery life tests do correspond to Apple's claims of 29 hours of video playback on the 15 Pro Max (+9 hours vs 14 Pro Max) and 23 hours of video playback on 15 Pro (+6 hours vs 14 Pro). Video playback is often less intense than gaming and scrolling through X and Instagram, which is what the battery life menu tells me I'm doing far too much of – for research, of course.
Charging
🪫 My iPhone charges my Apple Watch & AirPods. I can charge my Apple Watch, AirPods Pro or another iPhone via the iPhone 15 Pro USB-C port – with a cable. It's not quite the Wireless PowerShare feature of Samsung Galaxy phones, but it's a step in the right direction if you're an Apple user in a pinch.
🧲 MagSafe wireless charging will get easier. MagSafe is one of my favorite iPhone features, but not all wireless charging accessories will juice up your phone at the same rate – some go the full 15W (the current max) and others halve that at 7.5W. Look for a "Qi2" if you're in the market for a new wireless charger.
⚡ Wired charges speeds are stagnant. Despite the introduction of USB-C and faster transfer speeds, wired charging seems to be capped at 20W. The rumor that the new iPhone would get 35W charging was wrong and you can only look at Samsung users' 45W charging capabilities with envy.
---
Software
🍎 Apple's ecosystem can't be beat. It's still far in the lead even if Samsung has done a better job in making its version of Android a more cohesive operating system. I'm reminded of this every time I restore my iPhone via iCloud (all of the apps are in the right places), FaceTime another iPhone user, or open up iMessage or Notes on any Apple device. Apple's ecosystem is the definition of "it just works."
Apple's ecosystem is the definition of "it just works."
🆕 iOS 17 brings a lot to the table Nightstand. I love Standby mode's full-screen UI while I charge my iPhone at night, Live Voicemail's real-time transcription for letting me screen calls, and FaceTime's audio and video messages if no one picks up. Apple widgets are now interactive (checklists and light switch widgets work from the home screen), NameDrop is a new way to exchange contact info with cool Contact Posters and, coming soon, AirDrop will let you continue file transfers over the internet.
🏝️ Dynamic Island is more useful. I liked the idea of a notification bar infused with the TrueDepth camera, but at launch last year on the 14 Pros it was in its infancy. Now I get it – I can track my UberEats orders, Lyfts, multiple timers, call durations, music and even flights. The fact that Dynamic Island trickled down to the 15 and 15 Plus (it wasn't on 14 and 14 Plus) means even more app developers should support it.
🚗📡 Roadside Assistance via Satellite. This is something I haven't tried because my car hasn't broken down, but it expands on Apple's Emergency SOS feature, this time for non-emergency situations. You can connect with AAA in the US if you're locked out, out of fuel, or simply stuck and you're without WiFi or cell service. Apple says Roadside Assistance is included free for two years with the iPhone 15 series.
---
Internal specs
📶 WiFi 6E for 2x faster speeds. The iPhone 15 Pro makes me want to finally own a WiFi 6E router. I mean, it's suddenly relevant now. I use my phone to download almost everything, so "twice as fast would definitely be a time saver," I tell myself as I browse Best Buy for WiFi 6E routers.
🧭 Precision Finding for Find My Friends. I use the Find My Friends app a lot. So I was happy to hear that Apple's second-generation Ultra Wideband chip (which is designed for spatial awareness) makes pinpointing friends in a crowd even easier. GPS helps me navigate to loved ones and answer my questions (i.e. "Are they on their way? Texting them might be dangerous or just annoying"). This new chip offers 3x greater range when getting close (and vague GPS becomes pretty useless).
♻️ More recycled parts than ever. Apple is touting more sustainability, and here are some of the iPhone 15 Pro highlights: 100% recycled aluminum (there's still aluminum on the inside), 100% recycled cobalt in the battery, 100% recycled gold in the USB‑C connector, 100% recycled copper foil in the MagSafe inductive charger, and my favorite during the iPhone 15 unboxing: 0% plastic wrap around the box.
---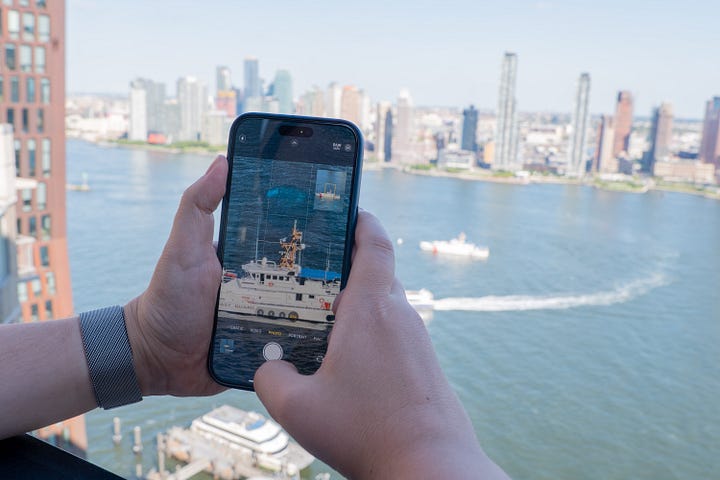 Should I buy the iPhone 15 Pro Max?
If you still haven't decided, let me basically tell you if you should get it:
Yes, if…
✅ 🔭 You want Apple's 5x optical zoom and best camera upgrade in years

✅ 🎮 You'll enjoy playing console-quality games on a powerful iPhone

✅ 🔌 You put off buying an iPhone to wait for the USB-C transition (it's time!)

✅ 🤑 You have an older iPhone to take advantage of those trade-in deals

✅ 😬 You'll get in trouble for ditching blue bubbles & FaceTime (straight to jail!)
No, if…
❌ 💸 Your hand & wallet can't stretch to 6.7" & $1,199 (iPhone 15 starts at $799)

❌🙌 You'd like a small Pro phone and are OK with a 3x camera zoom (get 15 Pro)

❌📱 You rate a big screen and long battery over camera and games (get 15 Plus)

❌ 🆕 You want a cutting-edge productivity phone (get Samsung Galaxy Fold 5)

❌ 🖋️ You desire an S Pen and 100x 'Space Zoom' (get Galaxy S23 Ultra)
---
Full iPhone 15 Pro Max specs
📆 Release date: September 22, 2023

💰 Price: $1,199

📺 Screen size: 6.7-inch

🖥️ Resolution: 2,796 x 1,290

🏃‍♂️ Refresh rate: 120Hz adaptive

💡 Brightness: 2,000 nits (peak brightness)

📸 Main camera: 24MP (48MP RAW)

📸 Ultrawide camera: 12MP

📸 Telephoto camera: 12MP with 5x optical zoom

🤳 Selfie camera: 12MP

⚙️ Chipset: Apple A17 Pro

🐏 RAM: Unknown

🗄️ Storage: 256GB / 512GB / 1TB

🔈 Speakers: stereo (and no headphone jack)

🔋 Battery: 4,422mAh

🔌 Wired Charging: 20W

⚡ Wireless Charging: Yes, 15W

📶 Connectivity: 5G sub6 and mmWave, WiFi 6e

👁️ Biometrics: TrueDepth camera with Face ID

📐 Dimensions: 76.7 mm x 159.9 mm x 8.25 mm

⚖️ Weight: 221g

🌈 Colors: Natural Titanium, Black Titanium, White Titanium, Blue Titanium

🤖 OS: iOS 17

🪨 Durability: Titanium frame, Ceramic Shield front, textured matte glass back

♻️ Recycled parts: aluminum, cobalt in the battery, gold in the USB‑C connector, copper foil in the MagSafe inductive charger

💦 Waterproof: IP68
Enjoy this iPhone 15 Pro Max review format? Support us by becoming either a FREE or PAID subscriber of The Shortcut ❤️