Discover more from The Shortcut
The Shortcut is the #1 consumer tech publication on Substack, designed to be your one-stop editorial guide to simplify your life. More than just PS5 restock information, we also cover news, reviews and provide best-in-class buying guides.
Over 135,000 subscribers
OnePlus Open review: a powerful foldable phone to take seriously
Open your eyes, the new OnePlus foldable phone deserves some attention
The most powerful folding phone of the year has arrived: the OnePlus Open is finally here, and with it comes the blazing-fast experience fans of OnePlus have come to know and love. And with a starting price of $1,699 – or $1,499 with the trade-in of any smartphone – OnePlus is playing hardball to drive as many people as they can over to their foldable.
It's an exciting time for the folding phone market. Competitors continue to turn up the heat in the race for the best foldable you can buy, with both Samsung and Google delivering excellent book-style folding phones this year alone. But like Google with its Pixel Fold, OnePlus is brand new to the folding smartphone world, and the OnePlus Open is the company's first shot to prove they deserve a spot in your everyday carry.
The Shortcut is a reader-supported publication. To receive new posts and support my work, consider becoming a free or paid subscriber.
So, did they pull it off? Is this the next great foldable? I think for some people, it will be. OnePlus delivers on a majority of what you'd look for in a new phone: great performance, great build quality, solid cameras, and all-day battery life. But there's a list of downsides that shouldn't be ignored, which could be enough to convince some folks to shop elsewhere.
Overall, though, OnePlus has quite the smartphone on their hands. Let's dive in and see what makes the OnePlus Open such a beast.
OnePlus Open review
Pros
✅ 📱 Excellent built quality with barely any screen crease

✅ 💡 Beautiful displays that get insanely bright

✅ ⚡ Super-fast performance

✅ 🔋 Multi-day battery life

✅ 📷 Surprisingly solid cameras

✅ 🔀 The best multitasking interface on any folding phone
Cons
❌ 🪫 No wireless charging

❌ 📲 OxygenOS might not be for everyone

❌ 🪨 No official dirt and dust protection
🏆 Review score: 4 out of 5
Best features
⚙️ An amazing list of specs. OnePlus is always making phones with insane spec sheets, and the Open is no different. From the Snapdragon 8 Gen 2 to the 16GB of RAM to the huge battery and cameras, this is a phone not to be questioned.
📸 Strong cameras. It's hard to get the cameras right on any folding phone due to the limited space manufacturers have, but OnePlus pulled off some magic here, mostly thanks to that huge bump on the back.
💰 A really good value – especially if you trade in. At $1,699, the Open starts $100 less than the Samsung Galaxy Z Fold 5 and Pixel Fold. But if you order through OnePlus.com, you can trade in any phone in any condition (yes, literally any condition) and save an extra $200, bringing the price down to $1,499.
🥇 Wait, this is the FIRST foldable from OnePlus? The whole time I was testing the Open, I kept thinking to myself how cool it is that this is OnePlus' first attempt at a folding phone. Are they getting help and technology from sister company Oppo? Absolutely. But it's still the first foldable phone with the OnePlus moniker, and for that, it's quite impressive.
Specs
📆 Release date: October 26

💰 Price: $1,699 ($1,499 with trade-in of any phone)

📺 Screen sizes: 7.82-inch inner display / 6.31-inch cover display

🖥️ Resolution: 2440x2268 inner display / 2484x1116 cover display

🏃‍♂️ Refresh rate: 120Hz adaptive

💡 Brightness: 2,800 nits (peak with HDR)

📸 Main camera: 48MP

🔭 Telephoto camera: 64MP w/ 3x optical zoom

👐 Ultra-wide camera: 48MP w/ 114-degree field of view

🤳 Selfie cameras: 32MP inner display / 20MP cover display

⚙️ Processor: Qualcomm Snapdragon 8 Gen 2

🐏 RAM: 16GB LPDDR5X

🗄️ Storage: 512GB UFS 4.0

🔋 Battery: 4,805mAh

🔌 Wired charging: 67W SuperVOOC (charger included in box)

⚡ Wireless charging: None

🔈 Speakers: Stereo (three drivers, four grilles)

📶 Connectivity: sub-6GHz 5G, Wi-Fi 7, Wi-Fi 6E, Bluetooth 5.3

👇 Fingerprint scanner: Yes (side-mounted in power button)

🔘 Alert slider: You bet!

🤖 OS: Android 13 (four OS upgrades, five years of security patches)

📐 Dimensions: 6.04-in x 5.63-in x 0.23 unfolded / 6.04-in x 2.89-in x 0.47-in folded

⚖️ Weight: 239 g (8.43 oz, Voyager Black) / 245 g (8.64 oz, Emerald Dusk)

🎨 Colors: Voyager Black, Emerald Dusk

🪨 Durability: Metal frame, Ceramic Guard glass on front, Ultra Thin Glass inside

💦 Water resistance: IPX4
OnePlus Open review in-depth
Price
The OnePlus Open is up for preorder beginning October 19 at OnePlus.com, Best Buy, and Amazon starting at $1,699. It'll go on sale on October 26.
During the entire lifespan of the Open, OnePlus is offering a $200 discount if you trade in any phone in any condition at OnePlus.com. You can score an even bigger trade-in discount (up to $1,000 off) with newer phones in good condition. At Amazon, if you preorder, you'll get a $200 Amazon.com gift card, while Best Buy is offering a $200 bonus with eligible trade-ins and up to $400 off if you activate the phone through BestBuy.com. Regardless of where you preorder, you'll also be treated to three months of YouTube Premium and six months of a Google One membership with 100GB of cloud storage.
Oh, and let's not forget about the OnePlus Buds Pro 2: preorder through OnePlus.com and OnePlus will give you a free limited-edition pair, complete with a white finish and an engraved number letting you know which of 5,000 units you received. Pretty cool, right?
Design and durability
📐 Surprisingly thin. I was absolutely delighted when I picked up the OnePlus Open for the first time. OnePlus has gone for a boxy aesthetic with its folding phone, similar to what Samsung does with the Z Fold 5, which makes it look pretty thick and heavy. But when you get to pick it up, you discover that it's actually really thin – so thin, in fact, that it's one of the thinnest on the entire market. At 11.7mm when folded, it's thinner than the 12.1mm Pixel Fold and 13.4mm Z Fold 5. When it's open, it's just 5.8mm, which makes it feel like you're directly iterating with a slice of OLED, which is awesome. 
🪶 Shockingly light. The best part? It weighs 239 grams – lighter than both the Pixel Fold and Z Fold 5 – which will help it feel comfortable to use for hours on end. It uses a variety of lightweight materials – from titanium to carbon fiber, cobalt molybdenum alloy, and zirconium-based liquid metal – to achieve this futuristic design, and it really paid off.
📕 The hinge is it. Boy, did OnePlus knock it out of the park with this hinge. The Open's hinge design consists of just 69 moving parts, whereas most foldable hinges use more than 100. This not only creates a lighter design, but one that can fit in tighter spaces, which helps when you want your phone to be 5.8mm thin when open. 
🙌 Barely a screen crease. Most folding phones suffer from a gutter crease on the inner display since it has to bend inward to close. Yes, there's still a crease on the Open, but OnePlus has done a tremendous job at mitigating it. It's the smallest crease I've ever seen on a folding phone, and it's almost indistinguishable from the rest of the display when you run your finger across it.
🤫 Yep, it's got an alert slider! In case you were worried the OnePlus Open would take after last year's OnePlus 10T and eliminate the alert slider, never fear – it's still here. It's mounted toward the top edge of the phone and includes an extra-grippy finish so you can flip between ring, vibrate, and mute with one hand. It's still my favorite OnePlus feature to date, and I'm glad that it made its way to their first folding phone.
📸 That camera bump is HUGE. Yeah, there's no getting around this one: the camera bump on the back of the OnePlus Open is absolutely huge. It somehow looks larger than what the renders will tell you, and I can definitely see it turning some people off a bit. Luckily, not only is it easy to ignore since it's on the back, it gives you a handy resting spot for your index finger when using the phone.
💦 It's okay around water, not so much around dirt. The OnePlus Open has an IPX4 rating, which means it can survive in drizzling rain or a light splash (so, y'know, don't dunk it in any water). However, the "X" in "IPX4" means it's missing a dust and dirt protection rating, so it's not a great idea to take it places where you'll find tiny pieces of dirt or other pesky granular objects (read: the beach). Luckily, it seems that OnePlus has added some extra protection to the caps of the Open's hinge (as per MrMobile's video diving deep into the design of the phone), so you'll likely be safe in everyday situations. Just make sure you're careful around extreme settings–this is still a folding phone, after all.
🎨 Frosted green or vegan leather black? Those are your two color choices if you pick up the Open. Technically, they're called "Emerald Dusk" and "Voyager Black", the former of which I received to review. It's a very nice green, I must admit, and the included case adds some much-needed grip for the clumsiest among us. But I honestly would've preferred the latter since it comes with a vegan leather backplate that helps it feel even more premium than it already is.
Displays
📱 A beautiful cover with a great shape. The OnePlus Open's 6.31-inch Super Fluid AMOLED display is the bomb dot com. The 2484x1116 resolution keeps things looking sharp for days, colors are produced beautifully (and aren't oversaturated, like some phones tend to do), and the variable 120Hz refresh rate makes everything you do on it silky smooth. The aspect ratio is also excellent; at 20:9, it's narrow enough to use with one hand, while also not limiting the amount of content that appears. It's a great middle ground between the Pixel Fold and Samsung Z Fold 5. It's also covered in Ceramic Guard, OnePlus' crystal-infused glass (a la Apple's Ceramic Shield on the iPhone) that's supposed to be stronger than typical glass. I won't be doing any drop tests, but I will tell you that it is still definitely glass and you should try to avoid dropping it at all costs (y'know, like a normal phone).
📖 The folding screen is very Galaxy Fold-esque. Speaking of Samsung, the Open's folding screen reminds me a lot of the Z Fold 5. The 7.82-inch Flexi-fluid AMOLED panel looks stupendous, with a sharp 2440x2268 resolution, variable 120Hz refresh rate, and gorgeous colors. Mixed with the slim bezels and nearly square 1.0758:1 aspect ratio, it looks a lot like a slightly larger Z Fold 5 display, down to the hole-punch selfie camera. Is that a bad thing? Not at all! Samsung makes some of the best screens around, and for OnePlus to be matching that quality is great to see. (Plus you get less of a crease on the Open.)
💡 INSANE brightness. There's no other way to say this: the brightness levels on the OnePlus Open are insane. It can reach up to 2,800 nits on both the cover and folding screens, making them some of the easiest displays to see in direct sunlight. 
Performance
🏃‍♂️ God-tier speeds. OnePlus packed in the Snapdragon 8 Gen 2 from Qualcomm, their latest flagship processor for smartphones, and it's an absolute beast. We've seen this chip in other phones this year, and much like those other phones, it performs great in the OnePlus Open. Apps open quickly, multitasking is a breeze, and I have yet to experience a major slowdown.
🎮 A smash-hit for mobile gamers. The Snapdragon 8 Gen 2, coupled with OnePlus improved cooling system and ultra-fast display responsiveness, makes the Open a great device if you enjoy playing mobile games. I'm not the biggest gamer in the world, but I did fire up games like Asphalt 9 and Call of Duty Mobile and they ran like a dream. Apple's A17 Pro chip, found in the iPhone 15 Pro and iPhone 15 Pro Max, is still promising more powerful console-quality gaming in the future, but Qualcomm's chip plays today's mobile games without a hitch.
⚙️ Hey multitaskers–this one's for you. There's a whopping 16GB of LPDDR5X RAM inside the OnePlus Open, which means it's the perfect phone for multitasking. You can have all sorts of apps open in the background – from lightweight task managers to heavy games to video editing platforms – and they'll stay open when you want to return to them. I'm really impressed with how well it keeps things in the memory. Plus, there's 512GB of UFS 4.0 storage, which not only gives you plenty of room to store all your stuff, but it keeps the system running fast as lightning since it provides some of the fastest read and write speeds you'll find on a smartphone.
Camera review
48MP main camera
📸 One of the best on a foldable. I'm very impressed with the OnePlus Open's main camera. It adopts a new Pixel Stacked layered design to fit in its housing while maintaining the phone's thinness, and it doesn't sacrifice quality in exchange. The Sony sensor OnePlus uses produces sharp photographs with good color and detail, while the f/1.7 aperture lets in a decent amount of light. Quality gets a little dicey at night, with some focusing issues and a desire to overexpose lights and shadows. But hey, that's why there's a pro mode.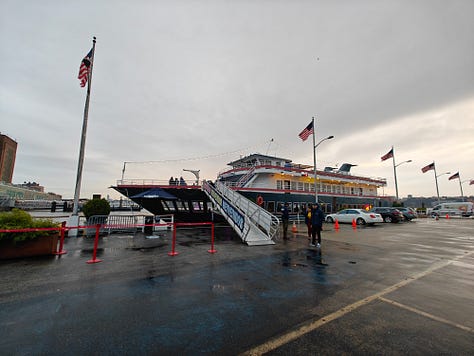 64MP telephoto
🔭 Closer, closer, CLOSER. The telephoto camera on the Open can get you very close to a subject. It comes with 3x optical zoom and 6x lossless zoom using the middle megapixels to crop in, and photos from both are plenty sharp and well-detailed. Using digital zoom, OnePlus lets you zoom all the way in 120x, closer than the popular Galaxy S23 Ultra's 100x Space Zoom. Is it great at that zoom level? Not by any means: every photo I took at 120x looks like water colors, and it's equally as bad until you get down to about 30x. Still, if you want to zoom in very very far (without being intrusive, of course), you have the option.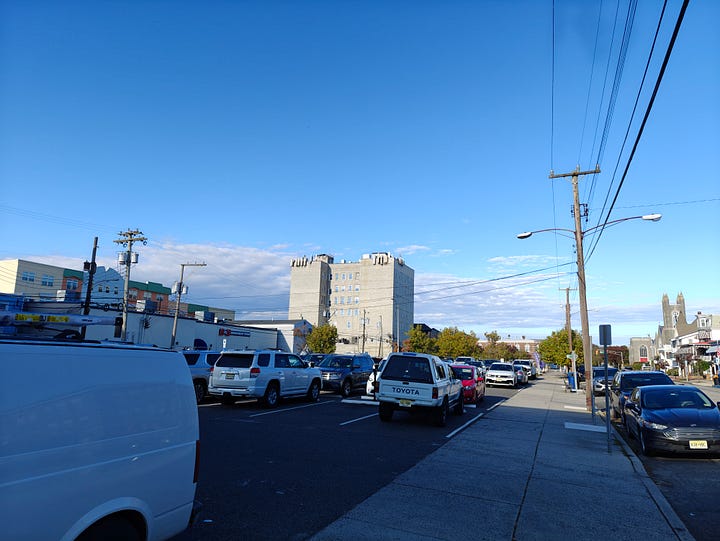 48MP ultra-wide
👐 It does its job perfectly well. Compared to the primary camera, the ultra-wide lens definitely feels like it's just there to give you an optional 114-degree field of view. And that's totally fine; photos are good in good lighting, with minimal warping around the sides. At night, they tend to fall apart and lose detail and clarity. Still, you have the option of taking an ultra-wide picture when you want. Plus, there's a sweet macro mode that lets you get up close and personal with your subjects.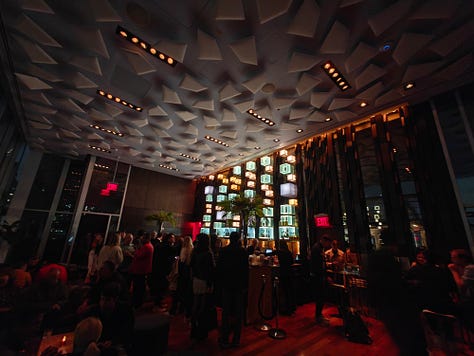 20MP and 32MP selfie cameras
🤳 Passable selfies. These aren't bad sensors, mind you. OnePlus does a good job at maintaining detail and good color in each selfie you take with both of these cameras, but they're obviously not the best. I recommend using the cover screen as a viewfinder and taking selfies with the primary cameras–you'll get much better results.
Video quality
📹 It's good. At 4K 60 frames per second (across all three lenses), video quality is solid on the OnePlus Open. The clips I've recorded offer good detail and sharpness, with not much overprocessing or artifacting around sharp edges. Obviously, it still can't top the king of smartphone video, the iPhone 15 Pro Max, but it's plenty good for a folding phone. You can also record in Dolby Vision HDR, a video standard that gives you brighter colors and contrasts on supported displays, and they look great when being played on the Open.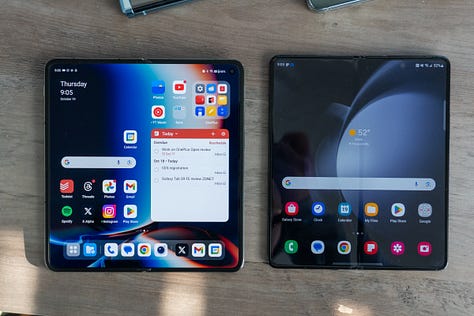 How it compares
🆚 Somewhere between the Galaxy Z Fold 5 and Pixel Fold. I took the OnePlus Open to the sunny streets of Ocean City to see how its cameras compared to other foldables, and the impression I was left with is somewhere between the Z Fold 5 and Pixel Fold. The cameras are better than what Samsung includes on its foldable with better processing and more natural-looking HDR, but I think the Pixel Fold does a better job at nailing contrast and saturation. Where the Open beats both phones is in zoom–you just can't get 6x lossless zoom on any other foldable phone. And in case you were wondering, these cameras aren't quite up to par with that of the iPhone 15 Pro, Pixel 8 Pro, or S23 Ultra. It definitely has one of the best camera systems for a foldable, but it's not at the level of a normal smartphone.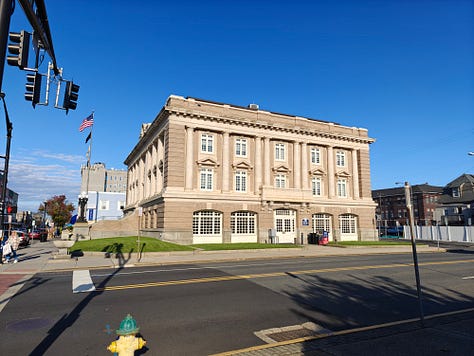 Battery Life
🔋 All-day… and then some. This phone refuses to die. The 4,805mAh battery inside the OnePlus Open can last a full 16-hour day with my medium to heavy usage, from listening to Spotify playlists over Bluetooth while running three apps at once to keep my content calendar up to date to browsing social media and taking photos. It would normally drop to about 40 percent at bedtime, which means if you're careful enough, you can stretch this phone to last two days very easily. That's sweet.
🔌 Lightning-fast charging. This is a OnePlus device after all, so you know you'll be getting rapid fast charging. This time around, it's 67W SuperVOOC charging, which can juice the Open up from zero to 100%in under 45 minutes. That's exactly been my experience with the phone, which is a tremendous convenience to have and puts every other folding phone–and most brick-shaped phones–to shame.
⚡ No wireless charging for you. If you're looking for wireless charging, you won't find it here. OnePlus decided not to include wireless charging on the Open for… whatever reason they thought was good justification. I can tell you that this question was raised multiple times during my early meetings with OnePlus about the Open, and it just seems that they either ran out of room for the coils or they wanted to cut costs. Either way, let's just hope the Open 2 gets wireless charging.
Software
🤹‍♂️ Multitasking with Open Canvas FTW. The OnePlus Open comes with OxygenOS 13.2 out of the box, and with it comes perhaps the best implementation of a multitasking interface on a folding phone: Open Canvas. Built using OnePlus' own foundation and framework, Open Canvas allows you to run up to three apps at once in a split-screen view and line them up next to each other so you can slide each one into view as you need it. Of course, a traditional split-screen view is also available, and you can save up to nine multi-app presets to immediately jump into certain workflows. For me, that includes having Calendar, Gmail, and Todoist open to keep tabs on what new devices are coming next. It's an extremely useful feature that makes perfect use of the large folding screen.
🎣 Sittin' on the dock of the Open. OnePlus also added a dock to the bottom of the Open's flexible screen, which makes switching between apps a breeze. But there's a really neat trick that no other folding phone has called "Recents," a folder of your most recent photos, documents, and other files. This gives you quick access to the most recent files on your phone so you can drag and drop them into apps without having to go through the clunky file attachment workflows in the apps themselves. Every manufacturer should consider copying this feature because it's just plain genius.
🫧 OxygenOS remains OxygenOS. Beyond the unique touches for the foldable experience (which also include special UIs when propping the phone up for apps like YouTube and the camera), this is OxygenOS through and through. That means you get all of OnePlus' other features like their "Aquamorphic" design language, a smart sidebar, Zen Space for reducing distractions, improved screenshot capturing, and more. I'm personally not the biggest fan of the interface (stock Android is much more my bag), but it's perfectly fine on the Open, especially since things like animations and transitions aren't slow or choppy, something that was an issue on the OnePlus 11 from earlier this year.
5️⃣ Five years of updates is pretty good. OnePlus is promising to update the Open with four major OS upgrades and five years' worth of security patches. That sounds to me like it'll get Android 17 since it's shipping with Android 13, but I'll circle back with OnePlus to double check. Regardless, if you buy this phone, you'll be getting very good software support (although not as good as other phones like the Pixel 8 which now get seven years of updates).
🐛 A writer's note on bugs. I'd be remiss if I didn't mention the bug situation on the OnePlus Open. During my testing, I used pre-release software that was never guaranteed to be bug-free. OnePlus shipped a software update to reviewers to fix bugs scattered throughout the system, but I never received the update. So in case you buy this phone and the software is shaky, I'd like to highlight a few of the bugs I faced in my testing so you know you aren't crazy.
The dock would sometimes freeze and not let me hit buttons at the bottom of apps, or type on the keyboard.

The camera app would hang up from time to time.

When multitasking with more than one app, the interface would stutter and–occasionally–not let me run two apps side by side.
Again, all these could be fixed by the time you get your OnePlus Open, and I hope it is. I'll update this review once I receive the final version of the software and clarify whether any of this is still floating around.
Should I buy a OnePlus Open?
✅ Yes, if…
You want the best specs in a folding phone

You want long battery life

You want some of the best cameras on any foldable

You like to multitask

You'd like to save some money compared to other folding phones
❌ No if…
You need wireless charging

You abuse your phone

You don't like OxygenOS (I wouldn't blame you)
The Shortcut is a reader-supported publication. To receive new posts and support my work, consider becoming a free or paid subscriber.