Discover more from The Shortcut
The Shortcut is the #1 consumer tech publication on Substack, designed to be your one-stop editorial guide to simplify your life. More than just PS5 restock information, we also cover news, reviews and provide best-in-class buying guides.
Over 135,000 subscribers
DJI Osmo Pocket 3 review: the best small camera gimbal out there
I captured smooth footage from this new pocket-sized camera, and it's a major upgrade
The DJI Osmo Pocket 3 is a small camera that allows you to easily capture incredibly-stabilized video footage by putting a tiny 3-axis gimbal in the palm of your hands. It's from the creators of the DJI Mini 4 Pro drone, and there's nothing like it at this size.
I perfectly analogized this tiny gimbal tech when I did the DJI Osmo Pocket review for TechRadar: "it's like an old giant Hollywood crane that offers smooth video, but reduced to the size of a compact flashlight." Both the original and the Osmo Pocket 2 I also tested extensively captured 4K/60fps video (cutting-edge back in 2018 and 2020), but their specs and design felt dated in 2023.
The DJI Osmo Pocket 3 is a no-brainer for content creators
That's where the DJI Osmo Pocket 3 becomes a no-brainer for content creators. It's a mini gimbal that gets with the times, offering a high-quality one-inch camera sensor, 4K/120fps footage and a unique rotating two-inch display so you can film in 16:9 (YouTube) or 9:16 (Instagram/TikTok).
At $519, depending on who you are, the DJI Osmo Pocket 3 is either a priceless content creation tool or an expensive toy that overlaps with your iPhone 15 Pro Max and GoPro Hero 12 Black. Its two chief rivals offer their own camera stabilization wizardry, but DJI has something extra: a definitive combination of stabilized video, time lapses, hyperlapses and, my favorite, motion-lapses. You won't get that last one anywhere else.
Why trust my DJI Osmo Pocket 3 review?
I reviewed the original DJI Osmo Pocket and tested the Osmo Pocket 2, recording hundreds of hours of video and photos. I've also reviewed the Osmo Mobile products, including the DJI OM 4, where you put your smartphone in a larger gimbal.
Naturally, I jumped at the chance to review the next-generation DJI Osmo Pocket 3 and tested this device for several days.
DJI Osmo Pocket 3 review
Pros
✅ 📸 1-inch camera sensor dramatically improves the quality

✅ 📺 2-inch touchscreen rotates to allows 16:9 & 9:16 shots

✅ 🫨 Stabilizes shaky footage with a mechanical three-axis gimbal

✅ 📹 Records 4K 60fps and incredible motion time lapses in RAW

✅ ⚙️ Includes a bunch of accessories including a wide-angle lens
Cons
❌ 📱 Your iPhone and GoPro stabilize footage pretty well, too

❌ 🤕 Mechanical moving parts are more delicate than a GoPro

❌ 🤹‍♂️ It's yet another camera tool to pack with my camera gear

❌ 💰 It's more expensive than the DJI Pocket 2 price
🏆 Review score: 5 out of 5
🏅 Editor's Choice Award
📸 1-inch sensor and 4K120fps upgrade. DJI's tiny gimbal beats the iPhone and GoPro to a 1-inch CMOS sensor, and beats Apple to 4K/120fps (even the iPhone 15 Pro Max is stuck at 4K/60fps). Numbers aren't everything as both Apple and GoPro employ more post-processing to enhance footage to tidy things up in most scenarios. But I can tell you that the Pocket 3 performs significantly better in lowlight vs the Pocket 2.
🫨 Shaky footage is no match for Pocket 3. Smooth video is what this gimbal is all about, and the slowly panning camera head gives off the Hollywood crane effect at a fraction of the size. You'll look like you're gliding when narrating selfie videos, and the built-in joystick allows for smooth pan and tilt movements.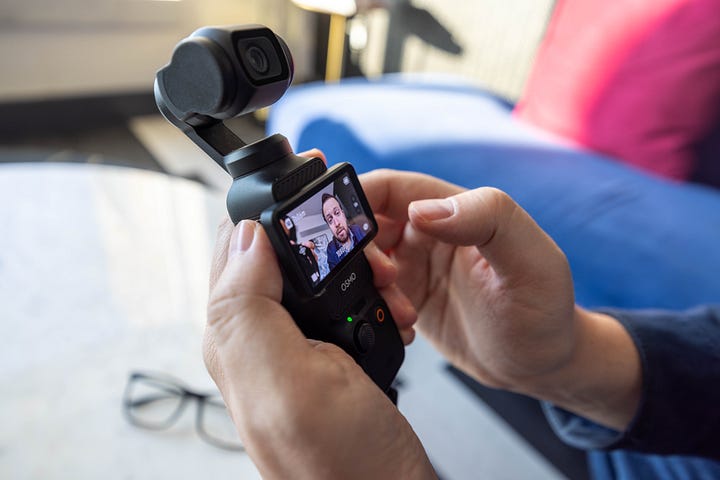 📺 2-inch rotating touchscreen. This is genius. The touchscreen rotates with the flick of your fingers so you can capture video and photos in 16:9 (YouTube) or 9:16 (Insta/TikTok). This is way better than the previous Pocket's 1-inch touchscreen and adapts to modern aspect ratios. Though I one day dream of an open gate solution (where you can get both 16:9 and 9:16 video), this is a step in the right direction.
💰 Priceless tool or pricey toy. The DJI Osmo Pocket 3 price is $519 for the camera, protective cover, handle with a 1/4-inch thread and wrist strap. Its Content Creator Combo pushes the price to $669 and adds a bunch of accessories: a wide-angle lens, wireless microphone transmitter, battery handle, mini tripod, clip magnet and carrying case.
🤏 Bigger, but still pocket-sized. Its plastic body is 1.5x bigger vs the Osmo Pocket 2, and here's why that's perfectly OK: the Osmo Pocket 3 absorbed a few of its predecessors' accessories (see below), literally outweighing any gripes about its three-year growth spurt. It still feels miniature in my book.
🕹️ Joystick and WiFi are now built-in. I used to have to attach accessories like a joystick nub and WiFi module just to get better controls and wirelessly transfer video/photos. Now there's a built-in robust joystick and WiFi onboard. You can even livestream straight from the DJI Osmo Pocket 3 if so desired.
🌆 Unbeatable motion lapses. No other gadget can pull this off at this size: I'm able to record RAW photos or 4K video and set four pivot points for a moving timelapse. The camera head slowly moves left to right, right to left, or along a custom pre-set path – I love capturing traffic below a balcony with two pivot points, and then panning up to buildings with another two points.
⚙️ Fun accessories. You can still enhance the camera's capabilities in other ways: a wide-angle lens, handle with a 1/4-inch mount, battery handle that has a 1/4-inch mount, and mini tripod and a wireless mic. There's also an essential case that comes with the DJI Osmo Pocket in the box.
🎙️ Built-in wireless mic receiver. DJI makes one of the best wireless clip-on Lavalier microphone systems. So while the built-in mic is OK (it doesn't have the best noise cancelation), the gimbal has a wireless mic receiver built-in. I was able to use the clip-on mic and skip attaching the usual DJI receiver to the camera (like I would have to do on a mirrorless camera) while still getting great audio. Pretty cool.
🖼️ Good photos, but heavy contrast. Actual photos on the DJI Osmo Pocket 3 look better than on the Pocket 3, but I did notice that JPEGs offer heavy contrast and shadows on human faces. It's best to shoot RAW and clean things up after the fact.
😬 Delicate mechanical gimbal has moving parts. The GoPro Hero 12 is rugged and I have a death grip on my precious iPhone that's swaddled in a case at all times. I feel as if I have to be extra careful with the DJI Osmo Pocket 3 because of its exposed mechanical gimbal. It hasn't failed me, but a drop outside of its protective case or a powerful magnetic could take this expensive gadget out.
🐈‍⬛ 🐈‍⬛ Déjà vu. I already have an iPhone and GoPro. Apple's newest iPhones offer a convincing 'Action Mode' and GoPro's HyperSmooth 6.0 does some of the best in-body stabilization for smooth footage. DJI beats the iPhone when it comes to low-light (the iPhone struggled in dimly lit scenarios in Action Mode), but the difference in the daytime isn't so dramatic. I feel like there's serious overlap.
🎒 Yet another camera for me to pack. That brings me to my biggest pause when considering this device. I'm struggling to fit this into my camera travel bag for CES 2024 and other tech events, even if it is compact. I'm already choosing between a smartphone, mirrorless camera and action camera when shooting content – which is really best for each shot? How can I carry everything? Do I really need it? This further complicates things.
Should I buy a DJI Osmo Pocket 3?
Yes, if…
✅ 🫨 You want super-stabilized video footage via a pocketable camera gimbal

✅ 📈 You owned and loved the DJI Osmo Pocket 1 or 2. This is a big upgrade.

✅ 🌆 You want to capture motion time lapses without heavy, expensive gear

✅ 📱 You like the Osmo Mobile gimbals, but hate that it hogs your smartphone
No if…
❌ 😐 You feel like the iPhone or GoPro video stabilization is good enough

❌ 🤹‍♂️ You already have too much camera gear and don't end up using half of it

❌ 🤕 You're a butterfingers who will drop this somewhat delicate gimbal