Discover more from The Shortcut
The Shortcut is the #1 consumer tech publication on Substack, designed to be your one-stop editorial guide to simplify your life. More than just PS5 restock information, we also cover news, reviews and provide best-in-class buying guides.
Over 135,000 subscribers
DJI Mini 4 Pro launches with 4K 60fps video and 360-vision, making it a powerful 249g drone
DJI's lightest drone just became a powerhouse drone
DJI's line of Mini drones have always been best known for their portability and 249gram weight letting them skirt under a few FAA regulations, however, their capabilities have always left me wanting for more video recording resolution or better obstacle avoidance.
Thankfully, the newly announced DJI Mini 4 Pro finally changes that with 4K 60fps movie recording and truly omnidirectional obstacle avoidance. These two upgrades finally put the Mini 4 Pro more on par with DJI's bigger drones, the DJI Air 3 and Mavic 3 Pro.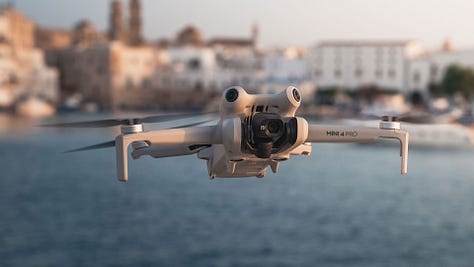 Biggest DJI Mini 4 Pro upgrades
On paper, the new DJI Mini 4 Pro features the same 48MP image sensor as its predecessor, the Mini 3 Pro, but the drone company has doubled the frame rate of 4K movie recording to 60fps. What's more, you can even record 4K movies at 100fps for some high-resolution slow-motion shots.
DJI has also introduced a new Night Shots video that promises to deliver cleaner footage while shooting in low-light conditions. And if you want to tweak your footage with more freedom, there's also a new 10-bit D-Log M format that grants you access to a billion colors to adjust.
This camera also still comes on a rotating gimbal that lets you take photos and video both in vertical and horizontal orientation. So you can shoot content for both standard YouTube 16:9 and Instagram or TikTok 9:16 aspect ratios.
The other big upgrade the DJI Mini 4 Pro brings is omnidirectional obstacle avoidance thanks to a new array of cameras on the front of the drone. Whereas the DJI Mini 3 Pro could only see forward, backward, and down, the DJI Mini 4 Pro has new front and back-facing cameras that are turned diagonally so they can see obstacles coming from the left and right sides.
Thankfully, all these added capabilities have not cut into the Mini 4 Pro's standard battery life of 34 minutes. And if you want to fly for an even longer 45 minutes straight, go for the larger intelligent batteries – though these push the drone's weight just slightly above 249 grams.
DJI Mini 4 Pro price
The DJI Mini 4 Pro price starts at $759 for the drone and standard remote controller, and is available starting today. You can also bundle the DJI Mini 4 Pro with a DJI RC 2 controller, which includes a built-in screen for $959.
Meanwhile, the DJI Mini 4 Pro Fly More Combo adds in two additional batteries, a charging hub, and a carrying case for $1,099. The last configuration is the DJI Mini 4 Pro Fly More Combo Plus bundles, which gives you the most complete package with three extended batteries for $1,159.
The new DJI Mini 4 Pro has finally gotten the 4K 60fps video and omnidirectional obstacle avoidance upgrades it needed to become a truly capable drone while staying lightweight at 249g. The Shortcut will have a full Mini 4 Pro review in the coming days.
Kevin Lee is The Shortcut's Creative Director. Follow him on Twitter @baggingspam.