Discover more from The Shortcut
The Shortcut is the #1 consumer tech publication on Substack, designed to be your one-stop editorial guide to simplify your life. More than just PS5 restock information, we also cover news, reviews and provide best-in-class buying guides.
Over 135,000 subscribers
Asus ROG Ally hands-on review: better specs-for-price vs Steam Deck
The Asus ROG Ally price is likely $700 and our review shows a better PC gaming handheld vs the Steam Deck. It specs show it has higher resolution screen, fast refresh rate and more powerful internals
Pros
✅ 🎮 PC gaming handheld with full HD display and 120Hz refresh rate

✅ ⚙️ Powerful AMD Ryzen Z1 CPU, RDNA 3 GPU and 512GB SSD

✅ 💿 Full Windows 11 and natively supports major gaming platforms

✅ 🙌 Lighter, more ergonomic and grippier than Steam Deck
Cons
❌ 💰 Probably going to be pricey

❌ 🔧 Windows 11 still isn't optimized for handhelds
Update: The Asus ROG Ally price is rumored to be $699.99 at the top end, and our updated hands-on review takes the potential cost into account. It's looking like the PC gaming handheld to beat vs the Steam Deck.
➡️ The Shortcut Skinny: 3-minute preview
The Asus ROG Ally is the new PC gaming handheld that makes the Steam Deck look dated and offers us a reason to give up on waiting for an inevitable but distant Steam Deck 2. The ROG Ally price will be $699.99, according to new rumors, which means it'll be a fantastic value for its high-end specs. Asus, not Valve, is delivering the perfect way to play the best PC games in 2023.
Want the final verdict on the Asus ROG Ally? Support The Shortcut, a banner-ad-free tech publication, as a FREE or paid subscriber 🙏
I got to test the Asus ROG Ally – I also went hands-on with the ZenBook S 13 laptop – and it's clear that Asus has engineered this as a Steam Deck killer. It has a higher full HD resolution (1920x1080), double the refresh rate at 120Hz, next-gen AMD specs, WiFi 6e, and a lighter, more comfortable design for long gaming sessions.
This week marks 14 months since the Steam Deck first launched, and its age is beginning to show next to Asus' superior performance beast.
Asus ROG Ally price
The Asus ROG Ally price is said to be $699.99, and that's for the high-end AMD Ryzen Z1 Extreme and 512GB version that I tested. There's said to be an AMD Ryzen Z1 and 256GB edition starting at an even lower price: $599.99. This means it'll actually beat the top-end Steam Deck price.
If true, the Asus ROG Ally is going to be extremely consumer friendly for people just getting into PC gaming handhelds. The appealing starting price point and the fact that we know it'll be sold at Best Buy means it has a good chance of going mainstream.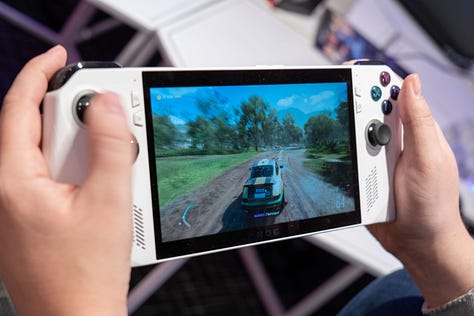 Asus ROG Ally games
It gets even better. The Asus ROG Ally is platform agnostic. It runs full Windows 11 and almost all of the major gaming platforms natively: Steam, Xbox Game Pass, Epic Games, EA Play, Ubisoft Connect and Battle.net. If it runs on Windows 11, it should run on this machine. There's no workaround needed to play your favorite non-Steam games on the aptly named Ally as there often is on the Steam Deck.
Again, this is why the Asus ROG Ally has a chance to achieve mass appeal, even if it seems like another Steam Deck clone in most other comparisons and reviews.
---
Asus ROG Ally specs
💰 Price: $699.99 (rumored)

🗓️ Release date: May 11, 2023

📺 Screen size: 7-inch (16:9 aspect ratio)

🏃‍♂️ Refresh rate: 120Hz

🐇 Response time: 7ms

💡 Brightness: 500 nits

⚙️ CPU: AMD Ryzen Z1 series, Zen 4 architecture (4nm)

👾 GPU: AMD RDNA 3

🐏 RAM: 16GB (LPDDR5)

🗄️ Storage: 512GB (6500 MB/s read)

🔈 Speakers: dual front-facing, virtual 5.1.2 surround sound, Dolby Atmos

🔋 Battery: 8 hours (rated)

🔌 Charger: TBA

📶 Connectivity: WiFi 6e

🪨 Protection: Gorilla Glass Victus with Corning DXC coating

⚖️ Weight: 608g (1.34 lbs)

🌈 Colors: White with RGB rings around the analog sticks

🤖 OS: Windows 11

🎮 Gaming: Steam, Xbox Game Pass, Epic Games, EA Play, Ubisoft Connect, Battle.net
---
On the 7-inch screen, the vast game library I had access to was easy to see and quick to access. I was able to install and play complex games like Forza Horizon 5 on Xbox Game Pass and Ghostrunner on Steam, then instantly switch to simpler titles like Moving Out and the newly launched Minecraft Legends.
You can't take off the Ally's controller sides like you can on the Nintendo Switch OLED, but I was able to play Dying Light 2 on a big monitor via the ROG XG Mobile eGPU, docking station and the on-brand Asus ROG Raikiri Pro controller (although any PC controller presumably works).
The Ally supports multiplayer, too. I was also able to play NBA 2K23 with Kevin Lee – the new Creative Director at The Shortcut – using one Asus ROG Ally and two ROG Raikiri Pro controllers on a giant television screen. Games like FIFA 23, Street Fighter V, Overcooked 2 and It Takes Two are on the list of stand-out multiplayer games.
Asus ROG Ally display
The big difference between the Asus ROG Ally and Steam Deck is in the handheld display. Asus offers a smoother, more pixel-dense full HD display with 120Hz and AMD Freesync vs Steam Deck's 60Hz which appears choppier and dated.
The Ally is also a smidge brighter than the Steam Deck (500 nits vs 400 nits) and it uses Gorilla Glass Victus and Corning's DXC coating for better transmittance and less reflection. We just did an in-depth OnePlus Pad review, and its 500 nits of display brightness outdoors was passable on a very sunny day. We'll run the same tests when the Asus ROG Ally release date of May 11 is finally here.
Asus ROG Ally design
It looks great and also feels great in the hand with the Xbox button layout, ergonomic contouring, and textured grips. The Ally made me feel at home. It only comes in white, but there's attractive flair around the pair of analog sticks that gamers will love: RGB rings that match the on-screen action. All of this and yet the handheld is somehow lighter than the mostly plastic Steam Deck thanks to Asus's lightweight aluminum design.
Final thoughts on Asus ROG Ally
That's where I want to do more testing in my full Asus ROG Rally review. Asus is doing a lot in a small, tight package. There are a bunch of vents and this thing can get hot.
Luckily, the thermals are being addressed with two fans (so far its less noisy than the one in the Steam Deck) and sophisticated antigravity heat pipes to cool off this specs-heavy juggernaut no matter which direction you're tilting it (liquid cooling is harder on a handheld than it is on a PC gaming rig that stays in one place).
I also don't know the price just yet, but the $699.99 Asus ROG Ally price rumor has gaming experts astonished – myself included. For comparison, the Steam Deck with the same top-of-the-line 512GB SSD is $649, and this portable PC gaming machine one-ups Steam Deck in almost every way possible. And it'll be sold at Best Buy. It'll be interesting to see where Asus falls in an effort to rival what Valve released 14 months ago.
The Asus ROG Ally uses powerful next-gen AMD architecture, feels comfortable during lengthy gaming sessions and stays game-platform-inclusive out of the box. But I can't come to a conclusion or offer a review score until I've had more time with the handheld. Also, that wouldn't be fair, since the handheld I tested for a few hours last week was due to ship in two months' time – enough time for Asus to work out any kinks.
Performance tests, battery life stats and that mysterious price point are going to determine whether or not the Asus ROG Ally is worth buying on May 11. Right now, the specs say it's a serious contender to upset the king of the hill status of the Steam Deck in mobile PC gaming.
I'll let you know if the Asus ROG Ally is worth buying in the coming weeks.