Discover more from The Shortcut
The Shortcut is the #1 consumer tech publication on Substack, designed to be your one-stop editorial guide to simplify your life. More than just PS5 restock information, we also cover news, reviews and provide best-in-class buying guides.
Over 135,000 subscribers
🤯 Google Pixel 8's magic AI camera, 😡 Netflix price increase, 🎮 PlayStation Portal sells out
Read our 10 banner-ad-free tech headlines, and weekly 👍 winners & 👎 losers
🤖 👍 Winner: Ever say "I hate how I look in photo 1. I love photo 2, but everyone else looks better in photo 1?" Google has mind-blowing fix.
I got a chance to try the Google Pixel 8 and 8 Pro early, and their AI camera wizardry is something I want in every smartphone. But it's exclusive to the new Pixel.
What can Google's AI camera do?
🤪➡️😃 Face swap. We've all said it: "I hate how I look in this group photo. My face looks better in this other shot where everyone else looks worse." You can mix & match heads for a "Best Take" blend. It's amazing how well it works.

Let me demonstrate using blinking, zany & eye-roll emojis

Photo 1: 😌😃🙄

Photo 2: 😌🤪😃

Photo 3: 😃🤪🙄

Outcome: 😃😃😃

🍎🆚🤖 Apple's iPhone 15 doesn't have this feature – but it strikes me as… interesting. Google has an ad campaign dedicated to poking Apple for making iMessage features exclusive to iOS/macOS. Yet Google's AI wizardry could be powered by Google Photos, but it's locked to the Pixel 8 series. I doubt Apple will dedicate an entire marketing budget to this issue.
For more face-swapping examples, check out my hands-on with the Pixel 8 ⤵️
Newsletter continues below ⤵️
📆 Your Calendar
🥷 TODAY: Assassin's Creed Mirage PC/console release (order it)

🥳 Oct 10, Tues: Amazon Prime Day October begins

🥽 Oct 10, Tues: Meta Quest 3 release date (pre-order it)

🏎️ Oct 10, Tues: Forza Motorsport Xbox release date (pre-order it)

📱 Oct 10, Tues: Samsung Galaxy Tab S9 FE & Buds FE release

📷 Oct 19, Thurs: Ring Stick Up Cam Pro release date

🕸️ Oct 20, Fri: Spider-Man 2 PS5 release date (pre-order it)

🐍 Oct 24, Tues: Metal Gear Solid Master Collection release (pre-order it)

🆕 Oct 25, Wed: Amazon Echo Show 8 release date

📱Oct 26, Thurs: Samsung Galaxy S23 FE releases

🔦 Oct 27, Fri: Alan Wake 2 release date (pre-order it)

🧟‍♂️ Oct 30, Mon: Resident Evil Village (iOS) placeholder date

🎮 Oct 31, Tues: Lenovo Legion Go release date (pre-order it)
---
2. Netflix will soon raise its prices – again
📺 👎 Loser: As soon as the actors' strike ends, YOU are expected to foot the bill
Your Netflix subscriber is going to cost more in the US and Canada when the ongoing actors' strike ends, according to the Wall Street Journal.
💰 Current monthly prices:

$6.99 Standard (with ads)

$15.49 Standard (ad-free)

$19.99 Premium

💸 How much? New prices are unknown, but ad-free tiers will reportedly get a price increase after the ongoing Hollywood actors' strike ends

🤔 Didn't this just happen? Yes, in March 2022 (19 months ago)

🔒 Let us not forget: Netflix password sharing now costs $7.99/mo extra

🏰 It gets worse: A Disney+ password-sharing crackdown is due in 2024
---
🎮 👍 Winner: Sony's pseudo portable PS5 is selling out already
It appears Sony may have another hit on its hands with the PlayStation Portal, despite valid criticism from vocal commentators. PS Portal lacks robust features, has a rather polarizing design and can't compare to the competition. But this PS5-and-Wi-Fi-tied handheld is resonating with enough gamers to sell out across various retailers. It's completely sold out in Japan.
💪 Sony's PlayStation Portal is off to a strong start

📆 It launches November 15 and lets you play PS5 games via Remote Play

💰 It costs $199, the same price as a PS5 DualSense Edge controller

😲 Initial pre-orders sold out at most US retailers, but keep trying daily:
---
🔥 👎 Loser-turned-winner: Here's what to do if your iPhone's been feeling toasty
My iPhone 15 Pro Max review proved that Apple's four new phones are powerful. But some apps don't play nice. Apple conceded that they may run warmer than expected but a fix is already out.
🪲 Apple said iOS 17 bugs and some third-party apps (like Instagram) caused its new phones to run hotter than they should

🙏 The new iOS 17.0.3 update fixes the issue without impacting performance

👍 There's no safety concerns to be worried about, according to Apple

🧟‍♂️ Apple's A17 Pro chip is powerful enough to run console-quality games, like Resident Evil Village, which is expected to launch at the end of this month
---
🥳 👍 Winner: Prime Day discounts start Tuesday, October 10
I'll be posting about the best Amazon Prime Day October deals next week – both on The Shortcut with Adam & Kevin and on my Twitter/X. Follow with notifications on.
📆 Amazon Prime Day October takes place from October 10 to October 11

💰 It's a great chance to save before Black Friday on November 29

👀 We're expecting to see similar discounts to July's Prime Day

👉 You'll need to be a Prime member to take advantage of the deals
---
🎤 👍 Winner: It's a strong start for SteelSeries in the microphone space
SteelSeries has entered the microphone market, and its first mics are specifically designed for gamers who stream online. Named the Alias and Alias Pro, SteelSeries' microphones have been made for broadcasting from the ground up. Combined with the company's excellent Sonar software, the Alias mics could be a popular choice with gamers who already enjoy SteelSeries' products.
🎤 SteelSeries has launched two broadcast-focused microphones

🎮 The Alias and Alias Pro should appeal to those who stream games online

💰 They cost $179 and $329, respectively

👍 Alias Pro comes with a Stream Deck-like base for onboard controls
---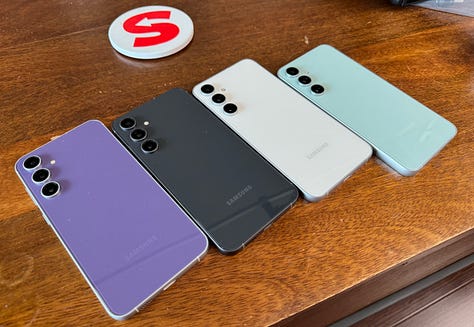 This month doesn't just belong to the Google Pixel 8 – Samsung is also launching new FE devices (FE stands for 'Fan Edition') starting on Oct 10 (for its tablets & buds) and Oct 26 (its FE phone).
These aren't the fastest or thinnest devices compared to the normal S23 series, but they'll save you anywhere from $50 to $350 if you're on a budget.
*There's no
Tab S9+ FE price yet; the two Tab S9 FE sizes are listed as "starting at $449."
---
🆓 👍 Winner: It's time to add new games to your PS5 and PS4 library
PlayStation Plus Premium, Extra and Essential subscribers can now download October's free PS Plus games. There are three PS5 games this month, including The Callisto Protocol, a spiritual successor to Dead Space which Adam thoroughly enjoyed. Remember, you only have until Monday, November 6, to grab these games, so add them to your library now.
October's PS Plus free games are now available to subscribers

You can get The Callisto Protocol, Farming Simulator 22 and Weird West

Use our PlayStation Plus discount code to save
---
🏎️ 👍 Winner: Reviews for Xbox's newest racing game are here
Forza Motorsport is back after a six-year hiatus and it seems like a solid entry in the series. Forza Motorsport is currently sitting on an Opencritic score of 82 after 63 critic reviews with 89% recommending the game. If you'd like to hit the track, the game is free to Xbox Game Pass subscribers and you can save with our Xbox Game Pass Ultimate 12 month discount code.
👍 Forza Motorsport has an Opencritic score of 82 after 63 critic reviews

🏎️ 89% of critics would recommend the new Forza Motorsport

😲 It's been six years since the last Forza Motorsport game

📆 The game is out on October 10 and is free with Xbox Game Pass
---
🎧 👍 Winner: Almost perfect, but there's room for improvement
A fantastic headset that nails the fundamentals, the HyperX Cloud 3 Wireless ticks almost every box gamers are looking for. With best-in-class battery life at 120 hours, you'll barely ever need to charge this headset, and it's extremely comfortable to wear for long periods. It also delivers excellent sound quality that's balanced and clear, and comes with a fantastic detachable microphone. Read our full HyperX Cloud 3 Wireless review to see why we loved this headset.
🔋 Exceptional battery life for a wireless headset

😍 Incredibly comfortable and impressive sound

😔 We wish it had Bluetooth support

💰 It costs $169.99 and is available now
---
🔒 Paid subscribers: Sony's DualSense Edge controller is perfectly suited to Call of Duty Warzone
Call of Duty Warzone and the DualSense Edge controller are a match made in heaven. If you want to raise your game and gain a competitive advantage, the DualSense Edge can help you win those one-on-one duels in the Gulag and ensure you're not fumbling about with the controls.
Read on for the best DualSense Edge settings for Call of Duty Warzone (and the upcoming Modern Warfare 3) if you'd like to take your game to the next level.
We also have the best DualSense Edge settings for Hogwarts Legacy, Gran Turismo 7 and God of War Ragnarok with more to come:
---
There's a lot more content on The Shortcut every day for FREE and PAID subscribers. Thank you for your feedback in the email replies ❤️