Discover more from The Shortcut
The Shortcut is the #1 consumer tech publication on Substack, designed to be your one-stop editorial guide to simplify your life. More than just PS5 restock information, we also cover news, reviews and provide best-in-class buying guides.
Over 135,000 subscribers
SteelSeries' new microphones make streaming easier for everyone
Forget about sound booths and mixers, SteelSeries' newest microphones can do it all
SteelSeries has introduced its first microphones ever and they're designed specifically for streaming gamers.
The two Alias Series microphones, the Alias and Alias Pro, have been made for broadcasting from the ground up. Firstly, it only has a single one-inch condenser capsule that's three times the size of standard microphone capsules.
The Shortcut is a reader-supported publication. To receive new posts and support my work, consider becoming a free or paid subscriber.
Most microphones feature multiple, smaller condenser capsules to support a variety of recording patterns, but SteelSeries focused on fine-tuning this singular capsule for the best cardioid pattern capture. The cardioid capsule is designed to minimize background noise within a bubble-like capture area that broadcast and recording studios use to capture the best vocals.
Where to buy the SteelSeries Alias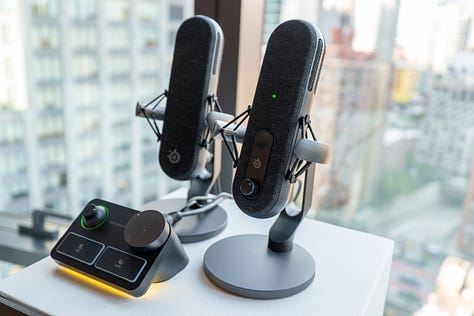 This microphone also boasts ​​ClearCast AI noise cancellation, which can adaptively cancel out noise and make it sound like you're in an enclosed recording studio. It worked so well during our hands-on in a hotel, that you basically could recreate a sound booth even without needing to put any sound-deading foam up.
Both microphones also come with custom-built shock mounts that prevent the mics from picking up sound from vibrations such as gamers slamming their desk or dancing to victory.
Where the mics differ is the Alias microphone has only onboard controls and connects over USB and a 3.5mm audio cable. The Alias Pro comes with a little stream deck-like base, XLR connectivity, and a 48-volt phantom power pre-amp that can help reduce noise and interference. Alias Pro's XLR Stream Mixer base also lets you route and mix up to five audio channels for a custom broadcast.
SteelSeries is also expanding the useful and versatile Sonar portion of its GG application on Windows with a new streaming mode. This part of the software lets you tweak how your voice sounds and it comes with a few presets if you just want to make yourself sound deeper or elevated.
You can also set the individual volume levels of what you hear vs. what your broadcast hears. For example, you might want very little game sound while the audience gets three-quarters of the game volume or you can set it up to hear in-game chat while blocking that from your audience.
The Alias Pro lets you do even more by allowing you to mix audio from multiple sources. So you could have a streaming and gaming PC setup all connected to one microphone and skip having to buy an XLR mixer.
The SteelSeries Alias Series mics are available now with the Alias Microphones retailing for $179 while the Alias Pro Microphone is priced at $329.
Kevin Lee is The Shortcut's Creative Director. Follow him on Twitter @baggingspam.
The Shortcut is a reader-supported publication. To receive new posts and support my work, consider becoming a free or paid subscriber.