Discover more from The Shortcut
The Shortcut is the #1 consumer tech publication on Substack, designed to be your one-stop editorial guide to simplify your life. More than just PS5 restock information, we also cover news, reviews and provide best-in-class buying guides.
Over 135,000 subscribers
📺 $148 4KTV, 🎮 PS5 Slim date, 🍿 Live-action Zelda movie and more
Read our 10 banner-ad-free tech headlines, and weekly 👍 winners & 👎 losers
🔥 Hot tip Tuesday: In 20 hours Walmart's Black Friday deals go live for everyone, but you can snag deals three hours early at 12pm ET/9am PT if you have Walmart+ – and it's now 50% off Walmart+. So now is a good time to renew or get a membership.
It'll likely be the only way to get that $148 50-inch 4KTV and other popular deals (I've listed many below) before they sell out.
⭐️ 👍 Winner: $99 AirPods & $70 off PS5 Spider-Man 2 bundle at 12pm ET – with Walmart+
Right now, you can see Walmart's best pending deals ahead of time: that $148 50-inch 4KTV, $99 AirPods, $239 under-the-desk treadmill, $50 noise-canceling headphones and $70 off a PS5 Spider-Man bundle.
The $76.88 Apple AirTags deal I pointed up yesterday went back up to $86.88 after a few hours (trust me, I heard about it from you all as soon as it happened🤣). I'm confident Walmart will chop off a Hamilton (that's $10) again – maybe tomorrow.
📆 Walmart's Black Friday deals begin tomorrow (Wednesday) at 3pm ET

⏱️ Walmart+ members get early access online at 12pm ET / 9am PT

🏷️ Save 50% on an annual membership of Walmart+ today

👉 Don't forget to check out…
---
2. I am (not) McLovin: Google's Magic Editor AI refuses to make fake IDs
🪪 👍 Loser: Kids these days will have to get fake IDs the old-fashioned way
Google Photos debuted two cool features when the Pixel 8 and Pixel 8 Pro came out last month: Best Take (aka face swap, as shown above) and Magic Editor (like using Photoshop on rails). Using AI, Google allows for heavy, yet easy photo manipulation to end up with the photo you wanted to take in the first place.
However, it seems as if the latest version of Google Photos has caught on to the fact that some people may be using Google's AI magic for evildoing – producing fake IDs – according to Android Authority. Shock! It looks like 20-year-olds are going to still have to be good at Photoshop or arts & crafts to get into bars.
I want to meet you at your platform of choice – email, Twitter/X, Instagram – to get you the lowest prices.
I'm being asked a ton of questions. So in addition to here and Twitter/X, I started an Instagram broadcast channel to send deal alerts for the best price drops. Basically, I want to meet you at your platform of choice to get you the lowest prices. I'll answer as many of your questions as I can – often with specific deal links.
🚨 Get instant alerts
The 10-story newsletter continues below the calendar ⤵️
📆 Your Calendar
🍎 Today: Apple MacBook Pro & iMac release date

🌟 Nov 8, Wed: Walmart+ Black Friday deals begin

👂 Nov 9, Thurs: The PlayStation Earbuds pre-orders go live

🔫 Nov 10, Fri: Call of Duty: Modern Warfare 3 release (pre-order at Walmart)

🚀 Nov 10, Fri: PS5 Slim on sale for the first time

🎮 Nov 15, Wed: PlayStation Portal release date (pre-order at Walmart)

🍄 Nov 17, Fri: Super Mario RPG release date (pre-order at Walmart)

🐍 Nov 17, Fri: Hunger Games: Ballad of Songbirds & Snakes in theaters

🇫🇷 Nov 22, Wed: Napoleon releases in movie theaters

🦃 Nov 23, Thurs: Thanksgiving

🛍️ Nov 24, Fri: Black Friday begins!

🤖 Nov 27, Mon: Cyber Monday deals go live
---
4. Nintendo is making a live-action Legend of Zelda movie
👍🍿⚔️ WINNER: Move over, Mario. Nintendo's next billion-dollar movie hero is Link
News from tomorrow – today! Nintendo of Japan just issued a press release dated November 8 (it's tomorrow there already), which confirms that the video game company is working on a live-action movie of The Legend of Zelda.
The movie will be directed by Wes Ball (Maze Runner) and co-financed by Nintendo and Sony Pictures. This is a no-brainer as Nintendo made over $1.36 billion from the Super Mario Bros. Movie and you already know it's working on Super Mario Bros. Movie 2.
➡️ The Shortcut Skinny
⚔️ The Legend of Zelda live-action movie confirmed by Nintendo

📽️ Wes Ball (Maze Runner, Kingdom of the Planet of the Apes) to direct

🍿 Zelda (and Mario) creator Shigeru Miyamoto is on as a producer

📆 No release date. Miyamoto: "It will take time until its completion"
My Super Mario Bros. Movie review in 3D vs 2D vs 4DX vs IMAX vs Dolby Digital was a hit – maybe I'll have to see this one five times over when it premiers.
---
🎮 👍 Winner: PS5 'Slightly Slimmer' is more like it. Find one in stock on Friday
I've tracked down the PS5 Slim and so far two specific stores have listings up, and both of them suggest it'll be in stock this Friday. The new PS5 models, which now include a way to swap in a Blu-ray player, will come packed with Call of Duty: Modern Warfare 3 (oddly, a Microsoft property now that it owns Activision).
Stay tuned for an alert to know when it's in stock.
📆 Best Buy and Target are saying it'll go on sale Friday, November 10

💰PS5 Slim with the pop-out Blu-ray disc drive will cost $500

🤷‍♂️ Current listing show it bundled with Call of Duty: MW3 for $0 more

🚨 I'll let you know when and were to buy it on Friday
---
📸 👍 Winner: We got to test out the world's fastest mirrorless camera today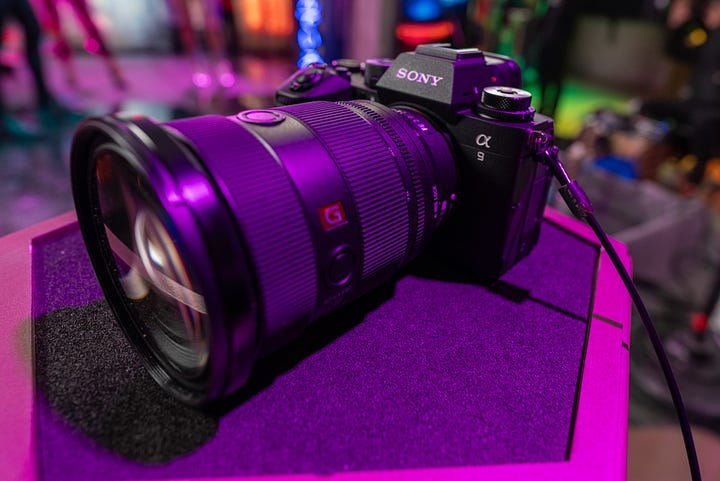 Today, Kevin and I got to test Sony's A9 III, the world's fastest camera thanks to its first-ever global shutter sensor. Its image sensor is unlike any other because it captures photos all in one shot — no mechanical or electronic shutters. This camera just takes photos all at once.
It completely removes the rolling shutter effect, which is a type of distortion that happens when capturing fast-moving subjects or making fast camera movements as you take a photo.
📸 First-ever camera with a global shutter & a maximum 1/80,000 shutter speed

🏃‍♂️ Rapid 120fps burst mode for up to 180 shots of 24.6MP RAW & JPEG photos

📽️ 4K/60p and 4K/120p movie shooting without any crop

📆 The Sony A9 III is due to release in Spring 2024
Read our news post to find out why this camera is even more of a game changer for its autofocus, insane shutter and flash speed, and cropless video.
---
7. WeWork files for Chapter 11 bankruptcy
📉 👍 Loser: Once valued at $47 billion, the stock of this office-sharing company is now trading at just $0.84
You can go from being the most valuable start-up in the US worth $47 billion to being the biggest once-IPO-bound company in free fall in just a matter of weeks. That's the story of WeWork (and the 2022 Apple TV+ miniseries WeCrashed).
Now there's another post-COVID chapter: the coworking spaces brand has filed for Chapter 11 bankruptcy, according to CNBC, and its stock is now trading at $0.84.
---
8. MediaTek Dimensity 9300 chip uses big core energy to rival Qualcomm
⚙️ 👍 Winner: New Android phones with MediaTek's 4nm chip challenge the Snapdragon 8 Gen 3
Taiwanese chipmaker MediaTek is making a name for itself among more top Android devices these days, and its latest chipset, the newly announced Dimensity 9300, is making a big impact. It's the world's first flagship smartphone chip with all big cores (usually chipsets are made up of a mix of big and little cores).
This may lead MediaTek to beat its closest rival, Qualcomm's Snapdragon 8 Gen 3 – especially if it nails CPU power and battery efficiency. I'll be interested in its 12-core GPU that's capable of raytracing and console-quality gaming. It also has enough AI prowess that today's overused tech buzzword might actually mean something.
⚙️ MediaTek Dimensity 9300 to power new Android phones soon

📈 Novel 4nm chipset has all big cores and gaming-ready 12-core GPU

🤼 It's set to rival Qualcomm's Snapdragon 8 Gen 3 chipset

📆 We'll start seeing the first Android phones with it later this year
---
9. Cue the AC/DC music: MacBook Pro is back in black – and we're reviewing it
🍎 👍 Winner: We got Apple's new MacBook Pro – the first on sale in black since 2008
I need a new MacBook for CES 2024, Apple just launched a super-fast M3 MacBook Pro today, and it comes in black for the first since 2008. Unboxing and review coming soon from Kevin and me, as we just picked it up today from the Apple Store.
📆 Released today – non-custom configurations are sold at the Apple Store

💨 Faster & battery-efficient Apple's M3 chip is ideal for true power users

📐 I chose the MacBook Pro 14-inch because it fits into a sling bag

🤷‍♂️ No matter which size you get, you'll always wish you had the other (14" when lugging a 16" around, and 16" when at home with a 14" desiring a bigger screen)

💰 MacBook Pro M3 starts at $1,599, often drops by $50 at B&H during sales
---
10. Nintendo Switch OLED Super Smash Bros. Edition will save you $70, but…
🍄 👎 Loser: Nintendo may launch a Nintendo Switch 2 next year
It pains me. Another tempting limited-edition Nintendo Switch just got announced – this time an OLED model themed for Super Smash Bros. diehards – but we're so close (supposedly) to a Nintendo Switch 2. It does come with a digital copy of the game and three months of free Nintendo Switch Online.
Even though the Nintendo Switch launched in 2016 – seven years ago – it remains a hot seller among the best Black Friday deals. I'm sure this year will be no different, but sometime next year, people may be kicking themselves.
---
There's a lot more content on The Shortcut every day for FREE and PAID subscribers. Thank you for your feedback in the email replies ❤️