Discover more from The Shortcut
The Shortcut is the #1 consumer tech publication on Substack, designed to be your one-stop editorial guide to simplify your life. More than just PS5 restock information, we also cover news, reviews and provide best-in-class buying guides.
Over 135,000 subscribers
This $5,999 Sony A9 III can shoot up to 192 images in 1.6 seconds
Never miss a moment with this world's fastest camera
➡️ The Shortcut Skinny: Sony A9 III
📸 First-ever camera with a global shutter & a maximum 1/80,000 shutter speed

🏃‍♂️ Rapid 120fps burst mode for up to 180 shots of 24.6MP RAW & JPEG photos

📽️ 4K/60p and 4K/120p movie shooting without any crop

🏷️ The Sony A9 III will release in Spring 2024 for $5,999 at stores like B&H Photo
Sony's newly announced A9 III is the world's fastest camera thanks to its first-ever global shutter sensor. Basically, this camera doesn't have a traditional shutter, either mechanical or electronic, and it instead captures photos with the entire surface of its sensor all at once. That means every single imaging pixel captures light at the same time instead of line by line like a traditional sensor.
This revolutionary image sensor alleviates one of the biggest problems of digital cameras, the rolling shutter effect. Since the Sony A9 III's global shutter sensor reads every pixel together, it can capture fast-moving subjects or while the camera is moving without any distortion in both photos and video.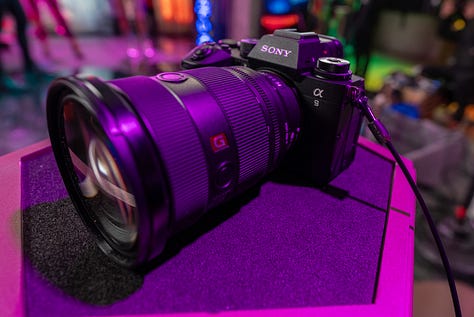 The Sony A9 III's global shutter sensor also allows it to shoot 4K/60p and 4K/120p movies without any crop. Thankfully it also supports Sony's amazing Dynamic Active stabilization that basically eliminates camera shake from videos, which I loved so much in the incredibly compact Sony ZV-E1 camera.
The lack of a shutter and the instantaneous image capture also allow this camera to boost its flash sync speed to any shutter speed. Speaking of which, the A9 III also boasts a record-setting 1/80,000 of a second shutter speed (1/16,000 during continuous shooting) when most digital cameras are limited to a maximum 1/64,000 of second. These to capabilities can basically allow you to freeze motion, such as rain drops or performing gymnists, and use a flash to illuminate the frame.
Sony's latest camera comes built to capture sports and wildlife. To that end, it features an incredibly fast 120fps burst mode that can shoot up to 192 shots of 24.6MP RAW and JPEG photos. The autofocus system is also souped up with 759 phase-detect autofocus points and it's backed by an AI system that can keep focus fixed on a person's eye even while they're wearing sunglasses or they turn their gaze away from the camera. It also comes with a buffer designed to start taking photos as soon as you half-press the shutter to ensure you don't miss a moment.
The Sony A9 III looks like one incredible camera and it comes at an equally incredible price of $5,999. Good news is if you desire it as much as I do, it will be released next year in Spring 2024 so you can start saving for it now.
Kevin Lee is The Shortcut's Creative Director. Follow him on Twitter @baggingspam.