Discover more from The Shortcut
The Shortcut is the #1 consumer tech publication on Substack, designed to be your one-stop editorial guide to simplify your life. More than just PS5 restock information, we also cover news, reviews and provide best-in-class buying guides.
Over 135,000 subscribers
🎮 Steam Deck OLED, 🌴 GTA 6 trailer, 🤨 Yahoo 'cancels' MrBeast, 🛍️ Shop Black Friday
Read our 10 banner-ad-free tech headlines, and weekly 👍 winners & 👎 losers
Hundreds of thousands of you scored from our early Black Friday deals links, and we're just getting started! By launching our all-new broadcast channel on Instagram and through real-time alerts on my trusted Twitter account, The Shortcut team is doing everything possible to help you sort through the holiday chaos and find exclusive deals, so make sure you're following along!
But, it's not just deals. We're in full-throttle mode and pumping out informative content. Ten stories daily, with today's technology news consisting of Steam Deck OLED, GTA 6 and PS5 Slim, among other tech topics. Thank you to our free and especially paid subscribers for your continued support!
P.S. Today's 10th story – our closer – is a story that's truly out of this world 🌟
The 10-story newsletter continues below the calendar ⤵️
📆 Your Calendar
👂 Today: PlayStation Earbuds pre-orders are live

🔫 Nov 10, Fri: Call of Duty: Modern Warfare 3 release (pre-order at Walmart)

🚀 Nov 10, Fri: PS5 Slim on sale for the first time

🎮 Nov 15, Wed: PlayStation Portal release date (pre-order at Walmart)

🍄 Nov 17, Fri: Super Mario RPG release date (pre-order at Walmart)

🐍 Nov 17, Fri: Hunger Games: Ballad of Songbirds & Snakes in theaters

🎮 Nov 17, Fri: Steam Deck OLED pre-order

🇫🇷 Nov 22, Wed: Napoleon releases in movie theaters

🦃 Nov 23, Thurs: Thanksgiving

🛍️ Nov 24, Fri: Black Friday officially begins!

🤖 Nov 27, Mon: Cyber Monday deals go live
---
⭐️ 👍 Winner: Some clear big winners from Walmart's early Black Friday sale
Walmart kicked off Black Friday yesterday, more than a week before Amazon's Black Friday sale, and there were a few standout deals that people were clamoring for.
According to my stats, we saw the biggest interest in the following items:
👉 Don't forget to check out…
---
🌴 👍 Winner: It's been 84 years… (Okay, 10 years, but still!)
It was starting to feel like this day would never come, but we'll finally see the first Grand Theft Auto 6 trailer in early December. Rockstar Games revealed the first official trailer for the long-awaited follow-up to GTA 5 will be released early in December, sending fans into a frenzy. We can't wait to see what Rockstar has been working on for a decade.
🔜 Get ready for the first GTA 6 trailer in December

🤩 Grand Theft Auto VI is easily one of the most anticipated games of all time

😳 GTA 5 was first released in 2013, so we've been waiting 10 years

📈 Grand Theft Auto 5 continues to sell millions of copies every year
---
👑 👍 Winner: Just when Lenovo's Legion Go comes out, there's ANOTHER rival
The first Steam Deck launched us into the modern PC gaming handheld era – and it was quickly flanked by competition like the ASUS ROG Ally and Lenovo Legion Go. This is the closest thing to a Steam Deck 2, which is reportedly years away, but builds on top of what we like with a larger OLED screen (though not as large as Lenovo's), lighter design increased refresh rate and more battery life.
🗓️ Steam Deck OLED pre-orders start Thursday, November 16 at 10am ET

📺 Bigger 7.4-inch OLED screen (up from a 7 inch LCD)

🔋 50Whr battery (up from 40Whr) for 3-12hrs (content-dependent)

💰 Solid price: 512GB version costs $549, 1TB version costs $649

⚙️ It's not any faster; a true Steam Deck is is years away, apparently

🫥 Limited-edition translucent 1TB version will be sold in the US & Canada
---
4. Yahoo News frames a story to 'cancel' MrBeast – no one is falling for it
📰 👎 Loser: Yahoo's clickbait takes two quotes to invent a criticism-focused story
Framing stories matters, and Yahoo News and other media outlets should know that. Correction: they do know that, but they'd rather spice up their headlines for clicks. In this case, MrBeast (real name Jimmy Donaldson) used his vast YouTube platform YouTube to building 100 wells across Africa. You can watch his video here.
Of course, providing clean water for those in need is, predictably in 2023, controversial. This Yahoo piece (and the tweet) takes quotes from two sources with mixed criticism of MrBeast's video and turns it into a full-on negative story. But all of the comments on Twitter/X saw this for what it was, and now there's a Community Note calling out Yahoo's ill-framed story.
We're out to make The Shortcut the opposite of this type of Yahoo! journalism.
🤷‍♂️ Yahoo News uses just two mixed-reaction quotes from a CNN story (not even their own reporting) and fabricates an entire negative story for clicks

😐 The story immediately highlights that MrBeast is been accused of being a "white savior" for highlighting the failings of the African government

🙃 Just one Kenyan politician suggested MrBeast is helping perpetuate the stereotype that Africa is "dependent on handouts"

🙄 Later on – in paragraph 12 – the Yahoo authors admit: "Though most the backlash was directed at the Kenyan government…"

👍 Mr Beast said he knew he would be canceled for uploading a video "helping people"
Whatever your view is on this matter, watch out for online news organizations basing an entire story on just two quotes to gin-up spicy narratives for clicks.
---
🎮 👍 Winner: PS5 Slim will soon be available to all
Sony's new slimmed-down PlayStation 5 went on sale briefly at Walmart but quickly sold out. My tweet was able to help some people grab one, though! The bundle included a digital copy of Marvel's Spider-Man 2 for $499, which means you're getting the latest PS5 game for free.
---
🎧 👍 Winner: Even if they're coming in December, they're the only way to get PlayStation Portal audio wirelessly
If you're not interested in the new PS5 model, the PS5 Earbuds are now available to pre-order on Amazon. They cost $199 and promise to deliver lossless audio. They also work with PlayStation Portal using Sony's new PlayStation Link technology.
👏 The PS5 'Pulse Explore' buds are now up for pre-order on Amazon

📆 Release date for PlayStation Buds Elite is December 9, 2023

🎧 The PS5 Elite wireless headset won't arrive until February 21, 2024

👋 It'll replace the older PS5 models in due course
---
7. SiriusXM's $10-a-month plan is a true Spotify rival
🎶 👍 Winner: More competition in the audio streaming space is only a good thing
I sometimes appear on a SiriusXM channel to talk about tech, and I'm thankfully that even I will find it easier and more appealing to tune into the channels I like to listen to starting in December. The revamp acts as a long-overdue rival Spotify and there's even a new fancy logo that looks a lot like The Shortcut's 'S' with an star in negative space (instead of an arrow). I dig it.
📆 New app rolls out on December 14 for iOS, Android and Amazon Fire devices

💰 $9.99/mo for its Streaming All Access Plan without on-demand playback

🌟 New SiriusXM logo shows that this is a major brand refresh

🤝 Partnership with Amazon's Audible will bring audiobooks to SiriusXM in 2024

🆚 SiriusXM is finally rivaling Spotify & utilizing its Pandora & Stitcher acquisitions
---
🎮 👎 Loser: Is Sony deliberately understocking its new PS5 handheld?
Sony's divisive PlayStation Portal is out on November 15, and despite receiving criticism and mockery online, it's sold out at almost every retailer. That doesn't necessarily mean that Sony has a hit on its hands, as the Japanese electronics giant may have been reserved with its stock allocation. Still, it makes buying one harder if you do want to play the best PS5 games without a TV.
📆 The PlayStation Portal is almost here

😎 It lets you stream games via Remote Play from a PS5

🛜 It'll work best on the same WiFi network as your PlayStation 5

👍 However, if you have a strong enough internet connection it'll also work outside of the home
---
9. Humane's $699 AI Pin is a smartphone without a screen. Pre-orders start Nov 16
🤖 🤔 Big Hmm: I'm not convinced I want to wear an AI Pin, and I'm an early adopter
Coming from the guy who reviewed Google Glass for TechRadar ten years ago, you'd think I would love this latest seemingly cutting-edge wearable. But I'm highly skeptical of Humane's AI Pin. It doesn't have a screen, it uses a green laser to project information on your hand, it's mostly voice-based and, now, according to an exclusive by The Verge's David Pierce, it costs $699 with a $24/mo T-Mobile plan.
I find this interesting: "Humane wants the Pin to be considered a fully standalone device, rather than an accessory to your smartphone," and its drawing information from Microsoft and OpenAI. But this early adopter is struggling to see a need for it.
💰 Humane's AI Pin is a screen-less wearable that costs $699

📶 It uses T-Mobile for a $24/mo cellular data plan

📆 Pre-orders start November 16, with an early 2024 release date, says Wired

📱 It's said to be a fully standalone device that won't require a smartphone

🤖 Taps into Microsoft and OpenAI to tape into their large language models
---
10. See 10,000 galaxies thanks to these first Euclid space telescope photos
🌠 👍 Winner: A great story to end on – the European space telescope gives us hope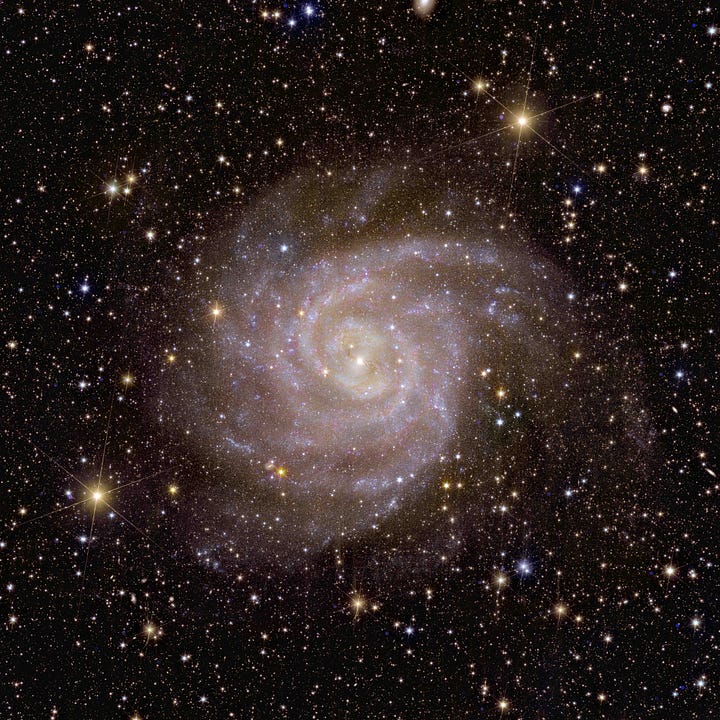 This week, the European space telescope Euclid beamed to Earth its first photos of 10,000 galaxies far, far away in the sharpest pictures we've ever seen (sorry, Hubble). Launched four months ago from Cape Canaveral, according to the AP, this telescope was able to capture "1,000 galaxies in a cluster 240 million light-years away, against a backdrop of more than 100,000 galaxies billions of light-years away."
🔭 More powerful than the Hubble, the Euclid launched in July 2023

🌌 It's not just pretty pictures. "Astronomers hope to learn more about the dark energy and matter that make up 95% of the universe."

🌠 You can see 1,000 galaxies in a cluster 240 million light-years away, against a backdrop of more than 100,000 galaxies billions of light-years away.
---
There's a lot more content on The Shortcut every day for FREE and PAID subscribers. Thank you for your feedback in the email replies ❤️