Discover more from The Shortcut
The Shortcut is the #1 consumer tech publication on Substack, designed to be your one-stop editorial guide to simplify your life. More than just PS5 restock information, we also cover news, reviews and provide best-in-class buying guides.
Over 134,000 subscribers
Walmart PS5 and Xbox Series X restock time on February 24 – but there's a catch
Walmart+ will be required to buy a Sony PS5 and Microsoft Xbox Series X at 12pm EST on February 24, the online store's first restock in February 2022
Updated with more news. Originally published February 19 at 6:44pm EST
The Walmart PS5 and Xbox Series X restock time on February 24 at 12pm EST / 9am PST, information confirmed by the console product pages on Walmart. But there's a catch for the first PS5 restock and Xbox Series X restock in a month: you'll have to be a paid member of its Walmart+ subscription program (the free trial won't work).
Please sign up: Notice something? No banner ads! A few kind people pay and many others subscribe FOR FREE to The Shortcut articles – either method supports me and my work. 🙏
How to buy PS5 or Xbox from Walmart
PS5 and Xbox will be for sale online only, not in Walmart stores

You need to be a paid Walmart+ member. The paid account will work, while the free trial won't. On this page, scroll down to early access to reveal the paid Walmart+ button

Avoid reseller prices. The prices will adjust to MSRP closer to the restock time
Walmart will sell three hard-to-buy video game consoles to its Walmart+ members: PS5 Disc, PS5 Digital and Xbox Series X through an online-only restock. And Walmart will sell the consoles for MSRP, meaning no bundles will be required like at GameStop.
Walmart will change the prices on its main PS5 and Xbox product pages (kicking out third-party resellers). Sometimes it changes the links to these items, so pay close attention to my PS5 restock Twitter tracker.
Walmart PS5 restock time February 24
When the PS5 and Xbox consoles are about to be in stock, I'll tweet the links and you'll fall into a Walmart queue. Millions of people are trying to do the same. Buying a Sony PS5 or Microsoft Xbox console, even a year-and-a-half after launch still comes down to speed and, more importantly, luck.
There is some skill to it, though. It's important not to refresh the Walmart PS5 and Xbox pages too far in advance, as you'll be hit with CAPTCHA security puzzles, with Walmart thinking you're a scripted bot.
Instead, wait until the time is 11:58am EST. At that time, start a page refresh every 10 seconds. As soon as the page changes (to show you in a queue), you should then move onto a different tab in the same browser for a different product (PS5 Disc, PS5 Digital Edition or Xbox Series X), or a different browser or device for the same product (using the same browser on the same device means cookie files are shared, and you'll just be brought to the same spot in the queue).
✅ PS5 restock in the US (Walmart update)
Walmart PS5, Xbox restock price for February 24
Right now, all of the pages have third-party resellers hawking the consoles at inflated prices, which I do not recommend buying at this time. The prices should be $399 for PS5 Digital and $499 for PS5 Disc and Xbox Series X when Thursday rolls around.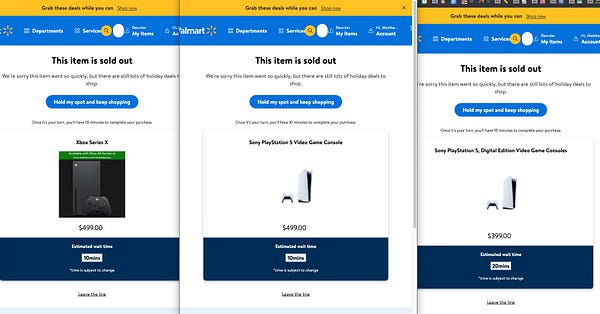 theshortcut.com
Walmart PS5 and Xbox Series X restock time on February 24 finally announced
Walmart will have both Sony and Microsoft consoles at 12pm EST / 9am PST
Walmart PS5 restock demand increasing
As you can see, other stores in the US haven't had PS5 and Xbox in stock for several days if not weeks or months. Amazon, for example, hasn't sold the PS5 since 2021. The launch of Horizon Forbidden West has driven PS5 restock demand through the roof this weekend. Target has been the only major retailer to sell the PS5 and Xbox in any sort of capacity in February 2022.
This PS5 restock news today comes at a good time, when new games have launched for the Sony console or are coming soon. Beyond Horizon Forbidden West, the PS5 is about to get Gran Turismo 7 in March, and both consoles will receive the hyped game Elden Ring later this month. With Xbox Game Pass Ultimate surging in popularity right now and the planned PlayStation Plus revamp in the coming weeks, consoles are going to be in demand more than ever.