Discover more from The Shortcut
The Shortcut is the #1 consumer tech publication on Substack, designed to be your one-stop editorial guide to simplify your life. More than just PS5 restock information, we also cover news, reviews and provide best-in-class buying guides.
Over 135,000 subscribers
Intel Core i9-13900KS review: Intel's best CPU yet
Intel's special edition Core i9 is a force to be reckoned with
The Intel Core i9-13900KS is Intel's victory lap, as it wasn't long ago that its best CPUs struggled to keep up with AMD's huge core counts. However, starting with the last-generation Alder Lake architecture and likely continuing to Intel 14th-generation processors later this year, Intel adopted an all-new chip layout that saw the company blast through its 10nm glass ceiling.
You see, that's when Intel adopted a hybrid chip architecture, likely inspired by the big.LITTLE design philosophy popularized by ARM and Qualcomm. With a CPU designed this way, Intel is able to fill a chip with two different types of cores, making it more powerful while also more efficient than the monolithic design we'd been stuck with for years.
The Intel Core i9-13900KS takes this hybrid chip design to the next level. It turns the dial up to 12 on the already-powerful Core i9-13900K, with a max turbo speed of 6.0 GHz and a higher power limit. This does mean you'll need some pretty substantial cooling, but for the best CPU on the market, you should be considering a powerful cooler either way.
The Shortcut is a reader-supported publication. To receive new posts and support my work, consider becoming a free or paid subscriber.
🛍️Where to buy the Intel Core i9-13900KS
🏆Score: 4.5 out of 5
🏆🏆Award: Editor's Choice🏆🏆
How I tested the Intel Core i9-13900KS
I'm going to be honest, my CPU testing set up isn't quite ideal yet. Mostly that is down to only having one kit of RAM, which is a 6,000MHz kit of G.Skill Trident Z5 DDR5 that's optimized for AMD systems. I couldn't get any memory clocks above 4,000MHz to stick, but I do have an XMP-optimized kit on the way and I'll run retests once it comes in to see if it makes a difference. I expect it will when it comes to Photoshop and Adobe Premiere – both of which love fast memory.
With that out of the way, though, I installed the processor and all the chips I'm comparing it against in my own personal PC and ran them head to head in a suite of tests designed to show off what the CPUs can do in the best gaming PCs. While benchmarking I also used the diagnostic program HWInfo64 to keep track of power usage and temperature information. And then I cross referenced that data with Intel's own Extreme Tuning Utility to make sure that HWInfo64 was reporting accurate info – because the temperatures were, um, high.
My testing system for this review was:
AMD:
GPU: Nvidia RTX 4090 Founder's Edition

RAM: 32GB G.Skill TridentZ5 DDR5 @ 6,000MHz

SSD: 1 TB PNY PCIe 4.0

Motherboard: X670E Aorus Master

Case: Corsair H170i Elite LCD

Power Supply: 1000W
Intel:
GPU: Nvidia RTX 4090 Founder's Edition

RAM: 32GB G.Skill TridentZ5 DDR5 @ 4,000MHz

SSD: 1 TB PNY PCIe 4.0

Motherboard: Asus Prime Z790-A Wifi

Case: Corsair H170i Elite LCD

Power Supply: 1000W
Why trust my Intel Core i9-13900KS review?
Besides reviewing PC hardware professionally for years, I'm a lifelong enthusiast – I use my gaming PC practically 24/7 and so I notice when there are critical problems that other tech reviewers may miss. I also don't really care about who's "winning" whatever CPU war is going on right now, and will always recommend the best product to actually buy.
That does mean that I'm also totally open to comments or messages asking for advice. Even if a CPU doesn't grace the top of our best CPU buying guide, it might still be the best CPU for what you need. I always try to keep that in mind.
I also run every component I test in my own PC, which means I can see how it interacts with the software I use every day, and trust me it's led me to more than a few blue screens.
TL;DR: I want you to get the best product for what you need to do, whether that's gaming, content creation or even light web browsing. I'm just here to help 🥰🥰.
Pedal to the metal
🌡️ Temperatures get very high

🥰 High temperatures are normal, and you shouldn't get too worried about them

⏩ The high temperatures let the Core i9-13900KS be as fast as possible
I didn't get a chance to review the Intel 13th-generation lineup when it first debuted in October 2022, mostly because I wasn't working here yet. However, if you're not aware, the Intel Core i9-13900K wasn't shy about pushing temperatures higher than you'd see in previous generations (i.e. before the 12900K). With the Intel Core i9-13900K, as you'll see in my testing, it means that at stock settings, you'll see it peak at around 100°C when under full load.
I think it's important to keep in mind that it's just how chip manufacturers are designing their high-end products these days. These chips have a maximum safe temperature, and will by default stretch up to that just to maximize performance at any given moment.
Basically the way to think about it is there are two factors that decide how fast your processor is going to be. Power and temperature. The Intel Core i9-13900KS will constantly scan these factors and if it's under a heavy load and there's space between its current power usage and temperature and the safe limit, the CPU will push itself up to those limits to get the work done faster.
So, you're going to see temperatures reach around 100°C and it will thermal throttle, it definitely did so with my 360mm AIO. But I can't stress enough that you do not need to worry about the CPU overheating. These days there are so many safeguards in place that will stop your CPU from melting in its socket. And, if you're still worried about it, you might want to go down a step to the Intel Core i7-13700K, which doesn't push up to its TJ limit by default.
Intel Core i9-13900KS release date
📅 Intel Core i9-13900KS released January 12, 2023

🎺 Available now at online retailers
Intel Core i9-13900KS price
🤑 Recommended customer price: $699

🤔🤔 But it's complicated

💵 Intel Core i9-13900K price is $599

🛠️ Base Intel Core i9-13900K will likely be best bet for most people
The Intel Core i9-13900KS launched with a recommended customer price of $699, which is about $100 more than the base Intel Core i9-13900K at $599. However, with Intel processors, that price is more of a guideline than a rule, and you'll probably see the Core i9-13900KS listed at around $700-$720 at most retailers.
That's about where it's sitting at the time of this review, with the base Intel Core i9-13900K sitting at around $609 at Newegg.
At these prices, for most people, the regular Intel Core i9-13900K is probably the better buy. You're going to get similar performance, and will likely be able to overclock to the same level as the Core i9-13900K if you're comfortable with that.
But that's the rub – overclockers are going to love the Core i9-13900KS. Intel's special edition processors are binned much higher than the rest – jargon for the pick of the litter. The Core i9-13900KS will in all likelihood be much better overclockers than any Core i9-13900K you pick off the shelf, unless you buy it on a site like Silicon Lottery – although now that they've shut down, you're pretty much out of luck on that front.
The extra $100 for the Intel Core i9-13900KS, then, is absolutely worth it, but only if you're the type of PC gamer that's going to push their machine to its absolute theoretical limits. I know I'm that kind of PC gamer, and I love this freaking chip.
⚙️Intel Core i9-13900KS specs and features
Performance cores: 8

Efficient-cores: 16

Total cores and threads: 24 cores, 32 threads

Max Turbo speed: 6.0 GHz

Base clock (P-core): 3.2 GHz | (E-Core): 2.4 GHz

Cache: 36MB

Base power: 150

Supported chipsets: Z690, Z790
The Intel Core i9-13900KS is an absolute beast of a processor. It's packed with 24 cores, 8 of which are multi-threaded Performance cores. Those are paired with 16 Efficient cores that handle background tasks, keeping them out of the way so your PC can focus on heavy workloads instead.
That's the same core spec as the Intel Core i9-13900K, but what makes the Core i9-13900KS special is that it has a much higher Max Turbo frequency, hitting 6.0GHz to the 13900K's 5.5GHz. To do that, the Core i9-13900KS has a much higher turbo power limit than the vanilla processor, with a PL1 of 320W and an unlimited PL2.
PL1 and PL2 are the different power levels that the processor can boost to. The PL2 is what the CPU will hit during very short, bursty workloads, before settling down to the PL1 for longer stretches of time. Think of it as the PL2 is the CPU sprinting, and the PL1 is its running speed.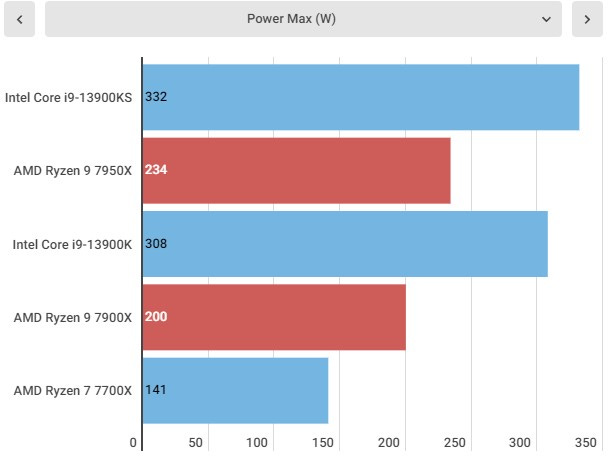 The unlimited PL2 is the main reason that the CPU will hit right up against its thermal limit when pushed extremely hard, as there's basically no stopping it from sucking 400W from your PSU if you have a cooler beefy enough to let it.
For instance, while running Cinebench R23's multi-core benchmark, the CPU sucked down 332W. I'm sure it would have stretched even higher if I did some tweaking to my cooling configuration – and that's something I'm definitely going to test in the future.
It's actually a lot of fun to benchmark this processor and watch the temperatures constantly bounce up and down as it hits the temperature limit, pulls back and then goes full throttle as soon as the cooler catches its breath. It might be faster if it was able to hit that unlimited power limit all the time, but it's not like the Intel Core i9-13900KS needs to be much faster.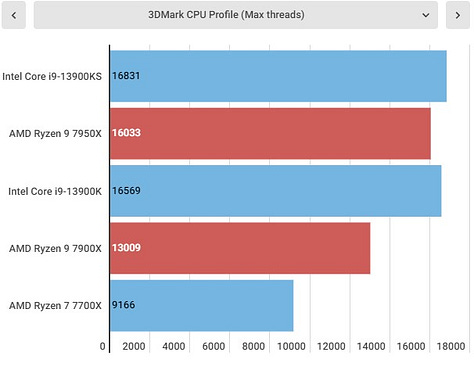 Intel Core i9-13900KS benchmarks and performance
It's frankly ridiculous how fast the Intel Core i9-13900KS can get. The Intel Core i9-13900K was already one of the fastest processors on the market and Intel took it even further here.
Even with the limited RAM speed, this Intel chip had no problem besting the AMD Ryzen 9 7950X in a wide range of tests, including Cinebench and the 3DMark CPU profile test.
The only places where the Intel Core i9-13900KS really faltered were in the Puget Labs Adobe benchmarks, where it was bested by all of AMD's processors in Photoshop. But like I mentioned at the top of this review, that's likely because I had to use the RAM at base speeds, and Photoshop eats RAM speed for breakfast – that and single-core performance.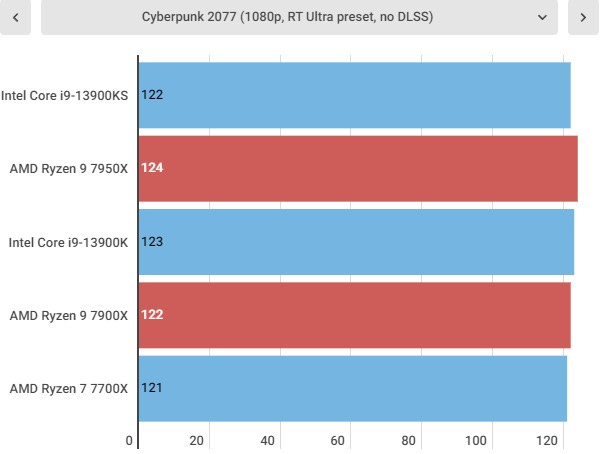 That's actually why I think with retests the Intel Core i9-13900KS will pull ahead with RAM that's actually suited for it. Because in both Cinebench and in the 3DMark CPU Profile test, Intel Core i9-13900KS single core performance blew everything else out of the water. That's thanks to the 6.0 GHz Max Turbo speed.
This is without a doubt one of the most powerful processors ever to hit the market, and especially so on a mainstream platform. But, it's important to keep in mind that you're going to need a really nice cooling solution to get the most out of it. A 120mm AIO liquid cooler is simply not going to cut it. My recommendation is at least a 280mm cooler and at least a 1,000W power supply – especially if you're pairing it with one of the best GPUs.
Should I buy the Intel Core i9-13900KS
Yes, if…
✅ You want the best performance money can buy

✅ You're planning to overclock the processor

✅ You are comfortable with high CPU temperatures
No, if…
❌ You're on a budget: the Intel Core i9-13900K is $100 cheaper

❌ You don't plan on overclocking

❌ You don't generally have to deal with heavy computing tasks