Discover more from The Shortcut
The Shortcut is the #1 consumer tech publication on Substack, designed to be your one-stop editorial guide to simplify your life. More than just PS5 restock information, we also cover news, reviews and provide best-in-class buying guides.
Over 135,000 subscribers
Samsung Galaxy S22 Ultra review: Android's best stylus and stylish phone
Our in-depth Samsung Galaxy S22 Ultra review is almost a year old, meaning it's about to be replaced. But it's still available for a good bargain in 2023
Samsung Galaxy S22 Ultra review update
Even though the Samsung Galaxy S22 Ultra is about to become a year-old Android smartphone, it's still among the best phones we can recommend in 2023. Yes, it'll be unseated by those flashy new Samsung Galaxy S23 colors and fresh features, but the price of the S22 Ultra has dropped and the specs still pack a mean punch.
I've tested the Samsung Galaxy S22 Ultra for nearly a year, ever since its February 25, 2022 release date, and my in-depth research shows that this is everything you would want from a Note smartphone. The S Pen is S Pen properly built into the phone this time, marking the Galaxy S22 Ultra the first 'Note'-like experience in two years.
🏆 Score: 4.5/5
🥇 Award: Editor's Choice
The S22 Ultra has the stylus, large screen and sharp boxy angles of the beloved Galaxy Note 20 Ultra (the last official Samsung Galaxy Note phone). But the newer Galaxy S22 Ultra specs take cues from last year's Galaxy S21 Ultra, only now with an enhanced 108MP camera, 100x 'Space Zoom' and 5,000mAh battery.
This S22 Ultra review has no banner ads! A few kind people pay and many others subscribe FOR FREE to The Shortcut articles – either method supports me and my work. 🙏
Samsung Galaxy S22 Ultra price
💰$799 Galaxy S22 (6.1-inch)

💰💰$999 Galaxy S22+ (6.6-inch screen)

💰💰💰$1,199 Galaxy S22 Ultra (6.8-inch and the one you really want)

😅 Luckily, Samsung is offering multiple incentives and trade-ins to ease prices
Samsung Galaxy S22 Ultra release date
🗓️ Release date was Friday, February 25

🗓️ Pre-orders started on Wednesday, February 9
Design and size
👨‍🎨 The Galaxy S22 Ultra = the Note form factor with 2022 design perks

📐 Beloved sharp angles, thin profile, built-in S Pen, expansive screen

Size: 77.9 x 163.3 x 8.9mm, 229g

👊 No bump on the Ultra's rear camera module – slick!

🖋️S Pen built-in

Slots into the phone body (no awkward case required like on S21 Ultra)

Latency was reduced by 70% to mimic that pen-on-paper feel

🌈 S22 Ultra colors – all-matte finish (better than glossy):

Phantom Black ⬅️ this is the 🔥 color

Phantom White ⬅️ 🖋️ S Pen has a silver cap to match the frame

Green

Burgundy ⬅️ ("I'm Ron Burgundy?" 🤔) also a good color

Graphite (Samsung Store-exclusive color)

Sky Blue (Samsung Store-exclusive color)

Red (Samsung Store-exclusive color)
Galaxy S22 Ultra specs
⚙️ World's first 4nm chipset

🐉 Snapdragon 8 Gen 1 in the US

🌐 Samsung Exynos 2200 globally

📡 5G: Ultra-wideband mmWave + Sub6; WiFi 6E

🔋 5,000mAh lasts "all day and into the next" says Samsung (I'll test that)

🔌 No charger included in the box

⚡ 45W Super Fast Charger compatible (25W = regular 'Fast' standard)

⚡ 15W wireless charging, Wireless PowerShare (Qi charge other devices from the back of the S22 phones)

🤖 Android 12, OneUI 4.1 software

New software convergence between Samsung devices and Windows – this is where Apple's iOS/macOS ecosystem excels and beats Android

I'd like to see Samsung take this even further in the future (give me some macOS support for my Samsung Notes already!)

👉 Biometric: Ultrasonic under-screen sensor 4x9mm

💦 IP68 water- and dust-resistance rating (nothing new, but always top-notch)
Camera
📸 📸 📸 📸 📸 Five cameras on the S22 Ultra

📷 108MP main camera: f/1.8, Dual Pixel Autofocus

👐 12MP ultra-wide camera: f/2.2, 120° field-of-view

🔭 10MP telephoto camera (3x optical zoom): f/2.4, 36° field-of-view

🔭 10MP telephoto camera (10x optical zoom): f/4.9, 11° field-of-view

🤳 40MP front selfie camera: f/2.2, 80° field-of-view

📹 Video

Rear video: 8K at 24fps or 4K at 60fps, auto-framing/auto FPS

Front video: 4K at 60fps

🎞 Camera software

🥇 Samsung still has THE BEST camera app, IMO

🖼️ Auto-framing for up to 10 subjects in video mode

💁‍♀️ Portrait mode has "smarter AI stereo depth map"

💇‍♀️ I'll test how good it separates hair of subjects against a blurred background vs a real camera

🔎 Camera sensor captures 4x more photo data than prior generation

🌃 Night portrait mode included

🐶 Pet portrait included

🧠 Expert RAW for 16-bit RAW files
Samsung Galaxy S22 Ultra testing
Why trust my Samsung Galaxy S22 Ultra review?
I have reviewed or tested every Samsung phone since the Note 3. I also went back and bought all of the older Samsung phones on eBay to test them out. Like the now one-year-old S22 Ultra, these phones tend to drop in price pretty quickly.
My prior Samsung phone reviews include every Note from the Note 20 Ultra (my all-time favorite TechRadar review) all the way back to the Note 5. I've reviewed many S and foldable phones too, recently the S21 Ultra, Fold 3, Z Flip, S20 Ultra, etc.
Samsung Galaxy S22 Ultra colors
S22 Ultra colors currently on sale
Phantom Black

Phantom White

Burgundy

Green
My review unit is the Phantom Black Galaxy S22 Ultra, but I'm pleased to say that all of Samsung's matte finishes look good in person. My second choice would have been the classy-looking Burgundy followed by Phantom White. Green is alright – a bit drab for my taste, but it all comes down to personal preference.
There are some Samsung Store-exclusive S22 Ultra colors, but those have sold out at this point. This may be because Samsung is prepping for the S23 Ultra.
Samsung Store-exclusive S22 Ultra colors included:
One more thing to note: All of the S Pen styluses come in black with a fame-matching cap color that matches phone colorway. I do wish contrasting colors were an option (recall the Note 9 had a bold-looking yellow S Pen). The Graphite, Sky Blue and Red versions of the phone do have S Pen bodies sporting their phone colors instead of black, so that's an extra perk.
Is the Galaxy S22 Ultra the new 'Note' phone?
Basically, yes. We didn't get a Note 21 (Ultra or otherwise) in 2021. While Samsung unceremoniously retired the popular Note series in the fall of 2020, the sharp angles, large screen and, importantly, the built-in S Pen are all back.
Samsung is positioning its highest-tiered S phone as the new Note, leaving the "smaller" S22+ and S22 to offer a more traditional contoured S phone design.
Galaxy S22 Ultra vs iPhone: which is better?
I like my iPhone 13 Pro Max – and now iPhone 14 Pro Max – but Samsung is doing cutting-edge things Apple is not. It's becoming harder and harder to ignore this every year, and I'm unsure the iPhone 14 – or even a very-much-fabled foldable iPhone further down the line – won't cure all of my longings for a more advanced device.
Samsung is doing cutting-edge things that Apple is not
Samsung has both a flagship phone with a stylus and multiple foldable smartphones for sale. No iPhone on sale today can do either of those things. Samsung also offers better camera zoom capabilities.
Where else does Samsung win vs Apple?
It doesn't stop with hardware. Samsung's camera UI is easier to operate (switching between the selfie and rear cameras is a cinch) and you can gesture to snap a photo. Apple doesn't have this. In fact, Apple made its camera app worse with iOS 15 by hiding the camera timer behind an extra slide-over menu. Samsung dominates if you want the ease of use from the camera interface.
Where does Samsung lose?
Copying text or photos from my iPhone and then being able to simply press control+v on my Mac to have them pasted on my computer instantly is a dream (I do this with tweet text and 2FA codes – every day, multiple times a day. Do you expect me to give that up long-term?). It can do this on Windows, but Samsung needs more phone-to-computer convergence like this to truly turn Apple users (who aren't simply going to give up their Mac. After all, Samsung always touts its desire to appeal to creators.
I'm still going to have to test out the Samsung Galaxy S22 Ultra today, along with the Galaxy S22+, and see which goes the distance – both in terms of the camera zoom distance and battery life distance.
S22 Ultra vs S22+ and S22: What's different?
📆 Same Friday, February 25 release date

💸 S22 and S22+ are cheaper by $400 (S22) or $200 (S22+)

🚫🖋️ Neither include the S Pen stylus

📐 Smaller size

S22: 6.1-inch screen, 70.6 x 146.0 x 7.6mm, 168g

S22+: 6.6-inch screen, 75.8 x 157.4 x 7.6mm, 196g

Ultra: 6.8-inch screen, 77.9 x 163.3 x 8.9mm, 229g

🌈 Mostly the same colors

Same: Phantom Black, Phantom White and Green

Different: Pink Gold (S22 and S22+)

Different: Burgundy (S22 Ultra exclusive)

📸 Dialed back camera specs

📷 50MP (not 108MP) main rear camera

🔭 Single 3x optical zoom (no extra 10x optical telephoto)

🤳 10MP (not 40MP) front selfie camera

⬆️ But they're bigger camera upgrades vs the S21/S21 Plus

S21 Ultra to the S22 Ultra camera sensor is the same

🔋 Different Battery capacities

S22: 3,700mAh

S22+: 4,500mAh

Ultra: 5,000mAh

⚡45W 'Super Fast' charging for the S22+ (and Ultra), but NOT for the S22

🧠 Different memory/storage configurations

S22 / S22+

8GB RAM with 128GB of internal storage

8GB RAM with 256GB of internal storage

S22 Ultra:

8GB RAM with 128GB internal storage

12GB with 256GB of internal storage

12GB with 512GB of internal storage

12GB with 1TB of internal storage

📡 Connectivity:

5G, LTE, Wi-Fi 6E (Galaxy S22+, S22 Ultra)

5G, LTE, Wi-Fi 6 (Galaxy S22)
Does the S22 Ultra have a microSD card slot?
No. The Samsung Galaxy S22 Ultra doesn't have a microSD card slot. Neither do the other two S22 phones. I knew people would constantly ask this question (even after answering it), so I confirmed this information first-hand by popping out the SIM card tray. Nope. No microSD card slot here.
Samsung did away with the microSD card slot, which allowed for expandable storage, two years ago. The last flagship phones to get it were the trio of S20 series phones two years ago. This may be a dealbreaker for some, but you'll be hard-pressed to find an Android phone manufacturer supporting the old microSD card slot.
Is S22 Ultra the best smartphone with a stylus?
Yes. Without a doubt. The Moto G Stylus 5G isn't on the same performance level, and LG not only doesn't make the LG Stylo series anymore – it doesn't make any smartphones. The Samsung Galaxy S22 Ultra is the best phone with a stylus since the… Samsung Galaxy Note 20 Ultra.
The king has returned.
Is the S22 Ultra the best camera phone?
The S22 Ultra camera specs are headlined by a massive 108MP camera that works even in darker situations and 100x 'Space Zoom' that lets you zoom in almost 7x as far as any iPhone camera (capped at a 15x digital zoom), even on the comparable iPhone 14 Pro Max.
Zooming into the Empire State Building allowed me to stand seven New York city avenues away and still capture a recognizable, albeit a bit grainy photo of antennas on top of the iconic building. The 10x zoom and sometimes the 30x zoom remains more practical in daylight hours.
I did find the camera sometimes blows out highlights in some photos, but Samsung has been known to tweak the dynamic range of its smartphone camera over time. Overall, in my smartphone camera testing over the last 12 months, I have found the S23 Ultra to be just shy of the best – the Google Pixel 7 Pro often topped both the iPhone 14 Pro Max as well as the S23 Ultra – but steady in second or third place.
There's a new second camera app that Galaxy S22 Ultra owners should download on day one with their new phone. It's called Expert RAW and, for some reason, it's hidden away in the Galaxy App Store. It enables you to snap photos with much more information and tweak them later on. Although it takes extra time to edit these DNG files (and they're large in size), I found this more practical than snapping 108MP photos. I just wish it was integrated into the same app. Maybe for the Galaxy S23, we'll see that?
I'll end with this: there really aren't bad camera phones at this price point, although we did see some autofocusing issues from the S20 Ultra two years ago, so there are a few exceptions to that rule. But for the most part, differences among Apple, Google and Samsung camera are either barely noticeable or a matter of personal preference.
Where the Samsung S22 Ultra camera wins for me
I can tell you this already: Samsung has the best camera app – and it makes snapping photos fun. I regularly use hand gestures to trigger group selfies (who wants to go digging around a camera UI for the tiny selfie timer while friends are waiting, Apple?). With the S Pen, I can trigger photos remotely, too.
I also relish being able to easily flip between the front and rear cameras with a simple up or down swipe anywhere on the screen (who wants to be hunting for a small camera flip icon in 2023? Which corner of the screen is that in again?). I can also flip between the front and back camera while recording (I recently had to stitch together an iPhone video I narrated because of its inadequacies – it was a nightmare because Apple's default iMovie software doesn't easily allow for 9x16).
Hands-down, Samsung has the best default camera app.
Battery life
With a 5,000mAh battery capacity, the Samsung Galaxy S22 Ultra lasted me all day despite my heavy usage: testing the camera, watching movies on the 120Hz display and sucking down data on 5G. I didn't quite get the all-day-and-then-some battery life that's part of the marketing efforts of Samsung, but it's close.
What's important is that the S22 Ultra (and the S22 Plus) use 45W Super Fast charging to juice back up – I got to 50% in the time I took to take a shower, which is the one-and-only time I'm without my phone… usually. The standard 25W charger is naturally slower, but Samsung includes… neither in the box. Like almost all flagship smartphone manufacturers, you get a USB-C to USB-C cable and no adapter. That's on you to buy in 2022.
Wireless charging remains at 15W and Wireless PowerShare returns to help juice up one of the many Galaxy Buds earbuds that Samsung sells.
I haven't gotten more time with the tablet that released alongside the Samsung Galaxy S22 Ultra, but I figured I'd dive into my brief experiences at the end of this review:
➡️ The Shortcut Skinny: Galaxy Tab S8 info ASAP
📱 Three new Samsung tablets

🗓️ Pre-order date was Wednesday, February 9

🗓️ Release dates was Friday, February 25

💰 $699 Galaxy Tab S8

💰💰 $899 Galaxy Tab S8+

💰💰💰 $1,099 for the Galaxy Tab S8 Ultra

✂️ Ultra has a notch screen cutout at the top (think MacBook Pro 14, 16-inch)

Why? Like Apple, it's due to Samsung's tiny screen bezels (great), but its desire to house a respectable camera (also great).

🌈 Colors

Graphite (all three)

Silver (Tab S8, S8+)

Pink Gold (Tab S8, S8+)

So basically you need to become an adult if you get the most pro version 🤷‍♂️. Sorry pink and silver color, fans.

🤔 Again, tempting pre-order bonuses:

Samsung pre-orderers get a free Slim Book Cover Keyboard (Tab S8 / S8+), or Backlit Book Cover Keyboard (Tab S8 Ultra)
Samsung Galaxy Tab S8 Ultra: is it any good?
iPads dominate the tablet market and for good reason (apps look better at larger sizes vs Android). But Samsung consistently offers the best Android tablet – and it works well with Windows.
What's it look like? What if you broke off a MacBook Pro screen (the one with the top camera notch cutout) from the keyboard and carried it around as a tablet? That's immediately what I thought of when I saw the new Samsung Galaxy Tab S8 Ultra.
It can convert into a 2-in-1 with a keyboard attachment (the S8 Ultra has a fancy backlit keyboard case) and has a price to rival Apple, but Android tablets haven't had as much traction as the iPad.
More to Galaxy S22 Ultra content come
AMA: Did I miss anything?
Special Galaxy S22 Ultra testing request? Ask me anything on Twitter, and I'll test it out and get back to you.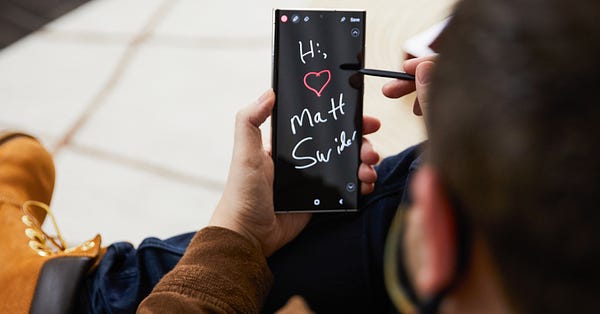 theshortcut.com
Samsung Galaxy S22 Ultra hands-on: the release date couldn't come sooner for Note fans
Your first look at the Galaxy S22 Ultra, the S Pen and even the Galaxy Tab S8 Ultra
Updated: January 29 20, 2023