Discover more from The Shortcut
The Shortcut is the #1 consumer tech publication on Substack, designed to be your one-stop editorial guide to simplify your life. More than just PS5 restock information, we also cover news, reviews and provide best-in-class buying guides.
Over 135,000 subscribers
AMD Ryzen 9 7950X3D review: AMD's new best gaming processor
The AMD Ryzen 9 7950X3D is AMD's next-gen powerhouse
The AMD Ryzen 9 7950X3D has finally arrived, just a few months after the rest of the Ryzen 7000 lineup of the best processors. What makes this processor stand out from the rest of the Ryzen 7000 processors is the 3D V-Cache, which allows AMD to stack a ton of cache onto the chip, which will lower latency and benefit the best PC games in a huge way.
It was a success, too. The AMD Ryzen 9 7950X3D sits right alongside the Intel Core i9-13900KS as being the brain behind the best gaming PCs on the market today. It features an incredible improvement in gaming workloads over the Ryzen 9 7950X, but there's a catch. Creative workloads see the Ryzen 9 7950X3D lag behind the standard part.
That means the Ryzen 9 7950X3D is purely a gaming processor. But that's not to say the AMD Ryzen 9 7950X is a bad CPU for gaming – the difference between the two parts is minimal, and will only be noticeable when playing esports titles like Overwatch at an extremely high frame rate.
The AMD Ryzen 9 7950X3D will set you back $699, a solid $100 over the Ryzen 9 7950X at the time of writing. At that price point, it's hard to recommend the X3D over the standard chip, unless you want the absolute best gaming performance, even if it means an advantage as slim as a few percentage points.
The Shortcut is a reader-supported publication. To receive new posts and support my work, consider becoming a free or paid subscriber.
Where to buy the AMD Ryzen 9 7950X3D
🏆Score: 4 out of 5🏆
🏆🏆Award: Editor's Choice🏆🏆
How I tested the AMD Ryzen 9 7950X3D
Like any other processor, I tested the AMD Ryzen 9 7950X3D in my own personal machine. I put the CPU through a wide variety of tests, ranging from Cinebench to Cyberpunk 2077. I then took the performance numbers and compared them against what other processors in the same price range can do.
My test PC specs are as follows:
Motherboard: Asus ROG Crosshair X670E Hero

RAM: GSkill Trident Z5 Neo, 32GB @6,000MHz

GPU: Nvidia GeForce RTX 4090 Founders Edition

SSD: 1 TB PNY PCIe 4.0

Cooler: Corsair H170i Elite LCD

PC Case: Cooler Master H500P Mesh

Power Supply: 1000W
Why trust my AMD Ryzen 9 7950X3D review?
I've been reviewing and building gaming PCs and all of their components for years now. Even before I did it for a living, I was addicted to overclocking and benchmarking PCs to see exactly what they can do. When it comes to recommending the right CPU to people, this means that I have a ton of experience seeing what makes or breaks the best processors.
I'm also totally open to any comments or messages from people asking questions about this processor. Finding the right CPU for your needs is a complicated game, and I'll always prioritize your actual needs over what's the most hyped chunk of silicon on the market right now.
Cache in 3D
What makes the AMD Ryzen 9 7950X3D unique is the 3D V-Cache. This technology was first introduced last generation with the AMD Ryzen 7 5800X3D, where it showed a huge increase in gaming performance over the non-3D version of that processor.
AMD's 3D V-Cache technology uses a method of 3D die stacking that allows Team Red to add more cache to its processors. So, while the AMD Ryzen 9 7950X has a respectable 64MB of L3 Cache, the AMD Ryzen 9 7950X3D doubles that with 128MB of cache.
Cache is incredibly important when it comes to PC gaming. The on-chip cache is essentially the fastest memory in your PC, so the more you have available, the less latency you'll run into when playing the best PC games. This is especially clear in open world games, where not only are you going to see higher framerates, but much less stuttering when the game is trying to load new assets.
This is essentially the biggest advantage the Ryzen 9 7950X3D brings to the table, but it's enough of an advantage that if you're considering a $699 processor for your PC build, it's hard to argue against the 7950X3D.
AMD Ryzen 9 7950X3D release date
Available starting February 28, 2023

Out of stock at the time of writing
The AMD Ryzen 9 7950X3D launched on February 28, 2023. That means you can go out and buy the processor right now – if you can find it.
At the time of writing, most retailers are sold out of the AMD Ryzen 9 7950X3D, but the Ryzen 9 7900X3D is still available in most places, and has the same benefits as the 7950X3D. Just with less cores and a smaller price tag.
AMD Ryzen 9 7950X3D price
Starts at $699

AMD's most expensive mainstream processor
The AMD Ryzen 9 7950X3D will set you back $699 at time of writing. Notably, that's the same price that the Ryzen 9 7950X launched for back in September, but the non-3D version of the processor has now dropped to $599 to make room. The AMD Ryzen 9 7950X3D is definitely a better processor for gamers, but if you're going to be using the processor for creative workloads – which will be most of the people attracted to a 16-core, 32-thread processor – saving $100 for better multi-threaded performance just makes more sense.
What makes the price a little hard to swallow, though, is its performance when measured against the Intel Core i9-13900K and 13900KS. In single-threaded workloads especially, the Intel processor really gives the AMD Ryzen 9 7950X3D a run for its money, and it's sitting at around the same price point.
AMD Ryzen 9 7950X3D specs and features
The AMD Ryzen 9 7950X3D is a 16-core, 32-core processor, with a max boost clock of 5.7GHz and a whopping 128MB of L3 cache. This is one of the most powerful processors you can slot into a mainstream gaming PC.
The processor is built on the AMD Zen 4 architecture. This uses a 5nm manufacturing process, which puts it about on the same level as the M2 Pro and M2 Max. However, because this is a desktop processor, it has a standard TDP, or thermal design power, of 120W. With this much power, the processor is much faster than anything you'll find in any Mac device.
However, with the high power comes high temperatures. Throughout the testing process, the AMD Ryzen 9 7950X3D regularly sat at around 89°C, even with a 380mm Corsair H170i Elite AIO cooler. But that's by design.
Just like the rest of the Ryzen 7000 processors, the AMD Ryzen 9 7950X3D will regularly push itself to power and temperature limits to produce the best performance at any given moments. Even if your cooler is powerful enough to keep this processor cool, it will automatically push itself hard enough to reach the "max" temperature.
This is a little alarming at first, but I assure you that it's by design and your new processor isn't going to be ruined by operating at this temperature, even at long periods of time. Modern CPUs have all kinds of safeguards in place to stop them from cooking themselves in their sockets.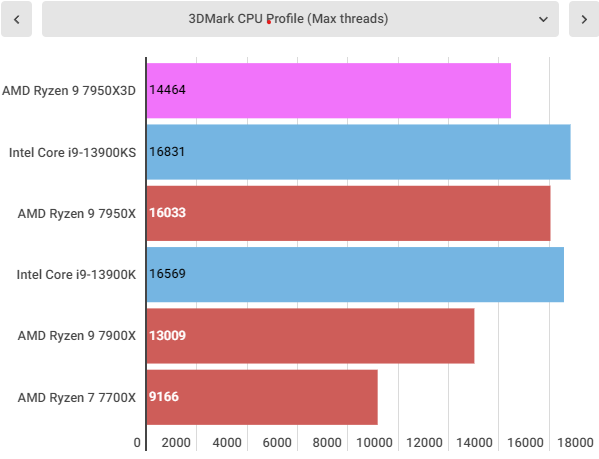 AMD Ryzen 9 7950X3D benchmarks and performance
Right out the gate, the AMD Ryzen 9 7950X3D has a lower max temperature than the standard 7950X. The default TDP is hugely different too. At the baseline, the 7950X has a 170W TDP, while the 7950X3D has 120W.
Even when pushing the CPU to its limits, the 7950X3D maxes out at 145W, where in the same testing suite, the Ryzen 9 7950X reaches 234W. What this ends up meaning is that in heavily threaded workloads, where all 16 cores need to be working as fast as possible, performance takes a hit.
For instance, in Cinebench R23, the multithreaded test sees the 7950X3D scoring 35,630 points to the 7950X's 37,653. Similar results appear in Geekbench, Adobe Photoshop and Adobe Premiere, too. The story changes a bit when it comes to gaming workloads, though.
In Total War: Three Kingdoms, a very CPU-heavy title, the AMD Ryzen 9 7950X3D gets 247 FPS, beating the 7950X's 230 FPS by a pretty significant margin. The 7950X3D also beats Intel's most powerful processor here, too. However, in Cyberpunk 2077, which admittedly favors Intel processors a bit, the 7950X3D falls behind, but not by a huge margin.
For the most part, the AMD Ryzen 9 7950X3D seems to be on equal footing with the Intel Core i9-13900K. That's not a bad thing, though. The Intel 13th-gen flagship is an excellent part. And especially if you're going to be pairing your CPU with an AMD graphics card, the AMD Ryzen 9 7950X3D should make for an incredible gaming experience. I'd just stick with the regular 7950X if you're going to be doing a lot of content creation, though.
Should I buy the AMD Ryzen 9 7950X3D?
Yes, if…
You want the best gaming processor: I'd consider the AMD Ryzen 9 7950X3D tied with the Intel Core i9-13900K as the best processor for gaming in 2023.

You want an AMD processor: Don't write off AMD's Smart Access Memory. Radeon graphics cards are a much better value with an AMD processor, and this is the best one available.

You want a future-proof processor: While I'd argue nothing is "Future Proof", this is a processor that will last you an extremely long time.
No, if…
You're on a budget: The AMD Ryzen 9 7950X3D is a $699 processor. It's the best of the best, but it's a high price tag to swallow.

You are a content creator first: While any 16-core processor is going to be great for content creation, you're better off getting the regular 7950X if video editing and such is your top priority.

High temperatures make you uncomfortable: The AMD Ryzen 9 7950X3D will naturally boost itself to a point where it hits high temperatures whenever under heavy load. This is totally normal, but if you are the type to anxiously watch CoreTemp, it's something to be aware of. It's hard to avoid this with modern CPUs though.