Discover more from The Shortcut
The Shortcut is the #1 consumer tech publication on Substack, designed to be your one-stop editorial guide to simplify your life. More than just PS5 restock information, we also cover news, reviews and provide best-in-class buying guides.
Over 134,000 subscribers
Giveaway: I waited in line for Halo Xbox Series X at Best Buy only to give it away
Six consoles total – one set for military, vets and their families and one set for everyone else – including two Halo Xbox consoles from Best Buy
Tablet of contents
News about the Halo Xbox Best Buy restock

Giveaway info – I'm giving away two Halo Xbox consoles

Liveblog about the Best Buy line in NYC (hourly updates – it's very cold)
📰 News update
The Halo Xbox Series X is the rarest new console around and I waited in line for it for 24 hours only to live blog the experience – and do a big giveaway.
I'm giving away each console – six in total – as I just launched this American-owned small business publication doing PS5 restock and other service journalism.
The Shortcut is a reader-supported publication without Banner Ads. To receive new posts and support my work, consider becoming a free or paid subscriber (who can comment).
The Shortcut is supported by you. When you purchase through some of the links, I may earn a small affiliate commission.
🎁 Giveaway of Halo Xbox and other consoles
🇺🇸 Why I waited in line for 24 hours? I'm doing a giveaway: one for military/vets and their families and one for everyone who wants this Halo Xbox.
➡️ Enter: My giveaway of Halo Xbox, PS5 Disc and Nintendo Switch OLED
⬆️ ⬆️⬆️⬆️Please click the link to enter via the Gleam widget. US-only. ⬆️⬆️⬆️ ⬆️
I was at the only store in Manhattan to have the Halo Xbox console in stock, with 84 units at the 14th Street Union Square location.
✏️ Liveblog of Halo Infinite Xbox Series X line
Monday, November 15
📦 8am ET: I got it! Actually, I got two – both for a giveaway!
Ok, despite the resellers showing up at the last second, we didn't get muscled out. I'm slowly losing the power to type – both on my laptop and in my fingers. That's what happens when waiting in line for 24 hours in the cold (with some rain for about two hours).
🎟️ 7:30am ET: I got a ticket! And so did Kevin Lee. We're getting the Halo Xbox console and we did it before the resellers showed up in line (they definitely did) to muscle people out of the new console.
💳 7am ET: Pro tip: Best Buy employees will hawk the Best Buy credit card as a way to shortcut the line. Only 3 of the 80-some people in line went for this option.
📝 6:05am ET: The official list is out for the Best Buy Halo Xbox restock, and you'll find it at Best Buy's website. As previously reported, paper tickets will be handed out to the line at 7:30am local time. 44 to 84 consoles will be at various stores, I've been told. Best buy employees have just gotten to the store to open up. Not much longer.
🥞 5:30am ET: There's some good comradery from the real gamers at the front of the line, and I was able to take a short coffee and bathroom break at IHOP. It's 24 hours – noted for next time there's an overnight console restock or Black Friday deals line.
🏷️ 5am ET: About two to three hours left to go. At last count, there were 46 people in line in New York City for the Halo Xbox Series X limited-edition console at Best Buy.
🎯2am ET: Supposedly the same thing happened at Target. I decided not to tweet that out simply because it's just not worth it if I can't cart the console and I know that no one else can either. This is why I'm waiting in line at Best Buy.
💻 12am ET: The Microsoft Xbox Store did a restock at midnight. Don't worry if you missed it. All real human customers did too. Resellers' bots were able to check out with it, according to their boasting and screenshots on Twitter.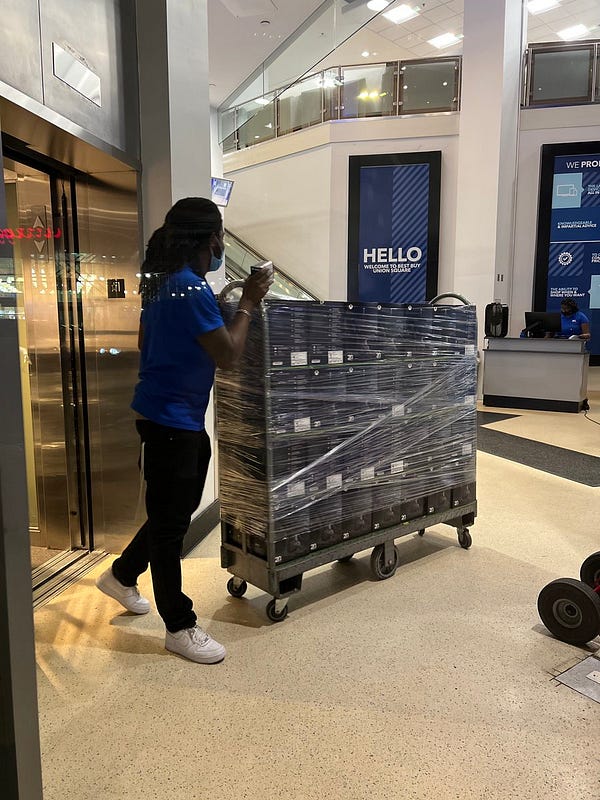 Sunday, November 14
🌧️ 10pm ET: It has started raining, and the line is still at now 40 people. 40 soaking wet people. It's not too bad – except for the fact it's cold. Food places are now closing up.
⚠️ 8pm ET: There are 17 people in line, according to our last count. Best Buy still hasn't publicly confirmed the in-store restock outside of telling employees, but the barricades are now up and the managers told us "See you tomorrow."
💰 7pm ET: The highest price sold I'm seeing on eBay is $1,499 for the Halo Xbox. Best Buy will sell it tomorrow for $549. That's almost there times the price.
🤔 6pm ET: There are now some suspected resellers in line. But they're further back. We're at 12 people in line for the Halo Xbox Series X.
🥇 4pm ET: There are 20 people in line right now, and we are FIRST IN LINE, which means for the first time in an NYC restock, real people beat the resellers.
🎁 3pm ET: The giveaway tweet is now live.
🙌 2pm ET: Best Buy store managers just sent out an official notice to employees that the in-store restock is happening tomorrow morning, as reported. It's internal news, but the fact it's distributed to all employees means it's on!
🏷️ 12:30pm ET: It looks like there will also be a Best Buy restock online tomorrow of the PS5 and Nintendo Switch OLED consoles for Totaltech members (Best Buy's seriously steep $199/year service for Geeksquad IT and other perks).
Keep in mind that Walmart will have PS5 and Xbox Series X on November 22 and it costs $13/month for Walmart+. Nintendo Switch OLED is easier to get, too.
🎁 12pm ET: I've devised a giveaway – I have a lot of active military and vets. I've been looking for a giveaway to do for them, and in my chats with them, I've recognized that they love games like Halo, Call of Duty and Battlefield. And getting the Halo Xbox is going to prove difficult.
So I'm waiting in line and will give away two consoles – one to military and one to everyone else as planned.
🏬 9:30am ET: I'm back in line at Best Buy. There's one other person waiting with us now to buy the Halo Xbox Series X edition (luckily, it's not a reseller). What hasn't changed is the temperature. It's still in the 40s.
Saturday, November 13
🛳️ 11:30am ET: Abandon ship! With no one in line and the temperatures dipping down to 30 degrees tonight (and employees not confirming things for me on the record), I'm going to get a few winks and try again tomorrow.
🪖 10pm ET: Best Buy just closed and employees still won't tell us on the record if stores will sell the Halo Xbox console in stores or if sales will be online (or both). But I've also heard that there will be 84 consoles in this location, according to my sources.
🥶 8pm ET: It's cold here at the flagship Best Buy in New York City. Dipping below 40 degrees Fahrenheit tonight. There's still no one in line. I'm off to get some pizza.
🎮 6pm ET: Just got here. I scoped out the Halo Xbox Series X console line with my buddy Kevin Lee, and there's no one here. Best Buy store employees officially can't say if the Microsoft console will be sold in stores tomorrow or if it'll be online – or both.