Discover more from The Shortcut
The Shortcut is the #1 consumer tech publication on Substack, designed to be your one-stop editorial guide to simplify your life. More than just PS5 restock information, we also cover news, reviews and provide best-in-class buying guides.
Over 135,000 subscribers
Apple event: Mac Studio, iPhone SE 3 and iPad Air 5 news
The Apple launch event on March 8 rumors are strong around the iPhone SE 3 and iPad Air 5 – but new Macs will likely take center stage
Update: I'm tweeting out the news live on Twitter right now: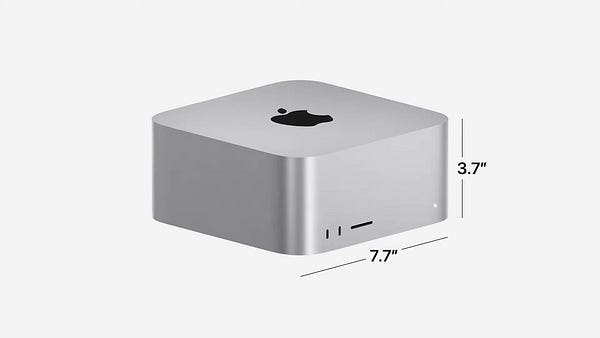 Update: The Apple live stream video is now embedded into this page. I'll also be live updates so start refreshing at 1pm ET:
The Apple event is on Tuesday, March 8 at 1pm EST (10am PST), just two days from today, and it's the company's first launch event for 2022. The most credible Apple event rumors and leaks suggest that we'll see announcements for the iPhone SE 3, iPad Air 5 and new Mac computers during the launch live stream.
Of course, these are just rumors, as Apple never officially confirms which products it will announce head of a launch event, but the invite to its virtual event teases 'Peek Performance.' It's clear that Apple is going to upgrade a bunch of existing tech from its Cupertino headquarters and maybe offer a sneak 'peek' at something brand new.
Please sign up: Notice something? No banner ads! A few kind people pay and many others subscribe FOR FREE to The Shortcut articles – either method supports me and my work. 🙏
Apple event March 8 time
The official time for the Apple event is 1pm EST (or 10am PST), and it'll be a virtual presentation – maybe the last virtual event for the company, as lockdown measures continue to lift. Apple just announced it'll require in-person work from its employees starting on April 11. The next Apple event is likely the software-focused WWDC 2022 during the first week of June followed by an iPhone 14 event in early September, one-and-a-half weeks ahead of the actual iPhone 14 release date.
The duration of Apple events in March is usually one hour. So the event time should be from 1 pm EST to 2 pm EST, if you want to tune in. You should be able to tune into the Apple March 8 live stream through Apple's website, but also YouTube.
Apple event March 8 live stream
The Apple event live stream on March 8 will be accessible to one and all, with Apple CEO Tim Cook and others giving us updates from Apple Park in a pre-recorded video presentation. This has enabled Apple to create a tighter narrative around its products and to use slick video transitions that wouldn't be possible during a live stage event.
Despite it being pre-recorded, it won't be a video on demand; it'll be streamed without the ability to fast-forward.
Note: This also means, unlike other live-streamed press conferences by just about every other tech company, Apple won't allow you to rewind its video presentations. You'll need to be sure to watch the Apple event live stream on time. Playback is usually available after the conclusion of the Apple live stream event.
I'll update this news story with the Apple event live stream video when it's available to embed and you'll get an email about it if you're a subscriber.
Apple event rumors
Apple event rumors seem trustworthy – at least for the new iPhone and iPad set to launch on March 8. The bigger surprise during the launch presentation will be where the company takes its Mac lineup. Let's dive into the most likely Apple leaks first.
Apple event to showcase the iPhone SE 3 5G
The iPhone SE 3 5G, or simply iPhone SE 2022, is the Apple prediction that's likeliest to come true on March 8. That's because we haven't seen the company update its entry-level iPhone in nearly two years (remember, the iPhone SE 2 came out on April 24, 2020 – right as worldwide lockdowns began).
Apple event leaks from iPhone SE 3 case manufacturers suggest that the design will not change in 2022 – it's still reportedly going to look like the iPhone 6. Yes, the iPhone 6 from 2014. That's either a great relief to people who stan the Touch ID biometric sensor found on older and entry-level iPhones over Face ID, or a major disappointment for anyone who wanted something new at a cheaper price point.
But, staying true to that 'Peek Performance' invite hint, the Apple March 8 event will reveal an iPhone SE 3 with 5G speeds, according to Mark Gurman at Bloomberg, and maybe the A15 Bionic chipset that's currently powering the iPhone 13. Hopefully, we'll also see a base storage size bump of 128GB. Sticking with 64GB, the base storage of the iPhone SE 2, would be a disappointment in 2022.
The iPhone SE 3 camera could also be upgraded from the SE 2's 7MP lens to a newer 12MP lens and incorporate its 'Center Stage' feature to keep you in the frame as you move around during FaceTime calls. So far, Apple has stuck to a single camera on the back of its entry-level iPhone, which encourages users who want an ultrawide-capable dual-lens camera to spring for the iPhone 13 or iPhone 13 mini. The iPhone 13 Pro and iPhone 13 Pro Max stand out with a triple-lens camera that includes a telephoto camera.
New iPad Air 5 on March 8
It's been a year-and-a-half since Apple first showed off its redesigned iPad Air, the iPhone Air 4th generation. It turned heads in October of 2020 by shrinking the bezel-reduced Liquid Retina display of the iPad Pro 11 and iPad Pro 12 to the iPad Air 4's 10.9 inches and debuting Touch ID on the iPad sleep/wake button instead of using the Pro-level Face ID. Of course, since then, the iPad mini 2021 did that all over again at an even smaller screen size of 8.3 inches.
An Apple iPad Air 5th generation tablet could give us that same 10.9-inch screen with more – you guessed it – performance (harkening back to the 'Peak Performance' hint on the Apple event invite). The iPad Air 4 specs are stuck with a last-generation A14 Bionic chipset and 4G LTE on cellular models. The natural progression would be to borrow either the A15 Bionic from the iPhone 13, or the M1 chipset from Mac and iPad Pro lineup along with a 5G modem.
Currently, only the iPad Pro 12.9 5th gen and iPad 3rd gen have 5G as an optional upgrade, so it's time for the iPad Air to catch up and deliver performance gains.
New Mac computers
Get ready for the Apple event to reveal a brand new Mac – which one? Well, that's the M2 mystery. Apple is due to refresh several Mac computers in 2022. No one is certain which will show up during the March 8 live stream.
Mac Mini 2022 with either an M2 or M1 Pro chip

'Mac Studio' half-sized Mac Pro as the Apple rumor site 9to5Mac suggests

MacBook Pro with the M2 chip

Mac Pro and iMac Pro
It's not certain that we're ready to see a new Apple M2 chipset – at least not at this Apple March 8 event. We're due for a MacBook Air redesign, but I don't expect that to break cover at this March 8 launch event. I'd give them a 50/50 shot and instead say stay tuned to WWDC 2022 in June when the iOS 16 update gets revealed.
Given the global chip shortage that's affecting Apple and all tech companies – we're seeing delays on everything from GPUs to cars to PS5 restock – it's much wiser to be bearish on new announcements happening sooner rather than later. I'm getting the same intel about Sony's ability to launch the PSVR 2 pre-orders as soon as they want to have the hardware out there.
Instead, we could see Apple upgrade the Mac Mini and MacBook Air with M1 Pro and M1 Max chips. While the MacBook Pro ushered in the M1 Pro and M1 Max chipsets, the smallest and lightest Mac and MacBook models use M1 chips.
Apple event 'One more thing' surprise?
Here's the rule: when Apple teases a new device that won't launch for a couple of months, it's usually because it's a brand new product category (Apple Watch) or a refresh of something that isn't readily on sale anymore (Mac Pro 2013). Apple refuses to eat into its sales for existing products.
The timeline for Apple AR glasses is said to be much further out than March 8, and the Apple Car leaks make it seem like a pipedream more than a credible Apple event rumor for 2022. A bold refresh of the iMac Pro (first available in 2017 and no longer on sale) and the aforementioned smaller Mac Pro (appeals to a different audience than the Mac Mini or full-sized Mac Pro) seem more viable.
Something completely new? Apple is said to be working on a next-generation display – what 9to5Mac is called the Apple Studio Display – that could replace the Pro Display XDR that launched alongside the Mac Pro 2019. It's said to have a larger 32-inch panel (vs the current-gen 32-inch panel). The Pro Display XDR is still readily in stock, so either Apple isn't ready to replace it yet, or it'll be sold alongside the still-unconfirmed 32-inch version.
No, the iPhone 14 won't launch on March 8
The iPhone 14 won't be announced at this Apple event. It seems obvious, but I always get questions about a 'new iPhone' every time there's an Apple launch event. And I get those questions regardless of the time of year.
Apple has been pretty consistent with new iPhone release dates happening in September every year, and I don't expect anything different in 2022.
iPhone 14 rumors currently point to a change in design on the front – no notch but a pill-shaped camera cutout – and the back – a flatter rear camera without a bump. In my Samsung Galaxy S22 Ultra review, I observed a similar flat rear camera module and I felt it was a nice design perk – if it doesn't hold back the camera prowess.