Stadia developers had no idea it was shutting down
Like Stadia owners, developers have also been left in the lurch by Google's decision to end its cloud gaming service
➡️ The Shortcut Skinny: Google Stadia fall out
☠️ Google announced that it was shutting down Stadia on January 18, 2023

🙀 However, the company seemingly didn't tell developers of its plans

😟 Several developers have games coming to Stadia in the next few months

🤷 But they're now left in limbo, unsure if Google will even pay them
It turns out we weren't the only ones to find out about the death of Google Stadia on September 29, as developers for the cloud streaming platform didn't know either.
Google announced that Stadia was shutting down on January 18, 2023, and anyone who bought hardware, games, or add-ons since the service launched in November 2019 would get a full refund by mid-January 2023.
However, it seems Google forgot to tell developers who still had games coming to the platform about its decision.
Mike Rose, the founder of No More Robots, which publishes games like Descenders and Let's Build a Zoo, took to Twitter to express his concern.
"Oh my god," Rose said about Google shutting down Stadia. "We have a game coming to Stadia in November. Who wants to guess that Google will refuse to pay us the money they owe us for it."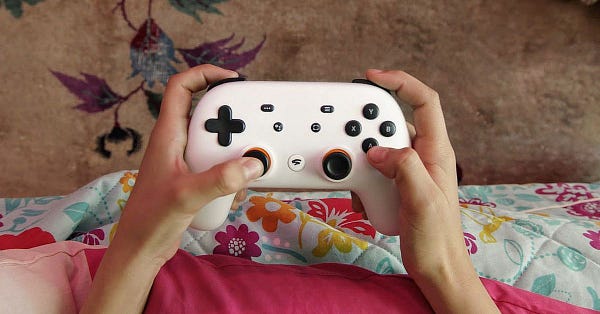 theverge.com
Google is shutting down Stadia
Google's cloud gaming service launched three years ago.
Rose also said that he hadn't received an email from Stadia hours after the announcement, meaning he had no clarity on what was happening with No More Robots games or any previous deals they'd made with Google.
Rose wasn't the only developer affected by the announcement. Tom Vian's game Tangle Tower was supposed to launch on Stadia on October 1, but he only found out that Stadia was shutting down at the same time as the rest of the general public.
Brandon Sheffield, director of Necrosoft Games, was also hit hard by the news of Stadia's demise, saying that Hyper Gunsport's development costs would have been recouped by launching on Stadia. Sadly, that won't be the case now.
"I know everybody is having a great time laughing at this but stadia had the best dev revenue of any streaming service, and launching Hyper Gunsport there was going to recoup our dev costs," said Sheffield. "We were launching there in November and are now in a much tougher situation."
Thankfully Google did reach out to some concerned developers and publishers. Rebecca Heineman, whose game was due to launch on Stadia in November, tweeted that Google was helping them "lessen the pain."
"Drowning my sorrows with a Diet Dad's Root Beer. At least Google reached out to us and are working to lessen the pain due to our title for Stadia is [sic] cancelled. At least it will be on other platforms, but still. Ouch."
While it may be fun to dunk on the death of Stadia, especially as the end has been nigh for quite some time, it's easy to forget that Google's decision will directly impact people's livelihoods.
However, that doesn't excuse Google's poor decision-making. Failing to inform developers that they'd no longer have a platform to launch their games on is unforgivable, and for that, Google deserves all the flack it's getting.
The Shortcut is a reader-supported publication. To receive new posts and support my work, consider becoming a free or paid subscriber.